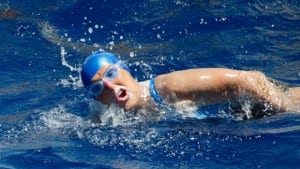 When Diana Nyad emerged from the ocean on Monday — having swum about 110 miles in roughly two days—she was battered and bruised but her spirit was no worse for wear. The first swimmer to make the trek from Cuba to Key West, Fla. without a shark cage, Nyad had three specific messages that should inspire communicators as they transition to a digital age.
"One is, we should never ever give up," said Nyad, 64, who had failed to complete the swim four times in the last 35 years before succeeding on her fifth attempt this past weekend. "Two is, you're never too old to chase your dreams." She added, "Three is, it looks like a solitary sport, but it's a team."
We thought the messages were clear, concise and oh so media-friendly.
They also lend themselves to the growing challenges faced by PR pros.
1. "We should never give up." This is a message that PR pros of all stripes should appreciate. Grappling with more change in the last decade than perhaps the previous 25 years, communicators have to be resilient as they take on new disciplines such as media buying and media planning.  With a shiny new object to contend with seemingly every other week, PR pros need to have a higher threshold for failure, which should only serve to reinforce their desire to succeed.
2. "You're never too old to chase your dreams." For PR pros born of the analog age, this means you. Conditioned on media relations, crisis communications and other traditional PR channels, some of the older folks in the business might be a bit leery of their ability to transition to social marketing, content creation and other forms of digital communications.  But as Nyad's feat demonstrates, you must move forward, embrace the new and not let your dreams be deferred by new technologies and new ways of thinking.
3. "It looks like a solitary sport, but it's a team." Integrated communications, anyone? During the swim Nyad was accompanied by a small flotilla of support staff, including kayakers and shark divers to protect her from jellyfish and sea trash, according to the Los Angeles Times. In the same vein, successful PR campaigns increasingly are being created in an integrated fashion, with everyone pulling his or her weight. One person (or one group) ultimately may get kudos from the C-suite but the more successful the campaign (and ROI), the more likely it was a team effort from the get-go.
Follow Matthew Schwartz: @mpsjourno1