The Ball Park brand dates back to 1957, when it debuted as the official hotdog of the Detroit Tigers. For more than 50 years, the "Ball Park Frank" has been synonymous with both the Tigers and supermarket aisles across the country. So when Ball Park in late 2012 entered the frozen-burger category via the launch of fully cooked flame broiled patties, it decided to swing for the fences, PR-wise. Ball Park, which is owned by The Hillshire Brands Co., called on its longtime PR agency MWW to create a PR campaign that would leverage the brand's equity and carve a new niche among both sports fans and food shoppers.
The campaign, titled "Burgers Across America," featured celebrity spokespeople, consumer marketing efforts and social media, along with a healthy dollop of regional pride.
Joe Cohen, senior VP within MWW's consumer marketing practice of MWW, said the campaign was able to effectively combine "paid, earned and owned" media, or P/E/O, which is an increasingly prominent element of marketing communications.
In this case, paid media was a Facebook ad buy as part of the overall campaign; owned media was Ball Park's branded content while the earned portion was generated from media coverage of the campaign.
THE OBJECTIVES
Ball Park's PR campaign had two main objectives:
• Create top-of-mind awareness about Ball Park Flame Grilled Patties among traditional consumers and boost consumer trials of the new product line.
• Reinforce the notion that Ball Park products are the "perfect guy food," in terms of brand positioning.
Because it was its first product line extension ever, Ball Park wanted to make a big splash with consumers, many of whom are increasingly patched into Facebook.
In October 2012 Ball Park teamed up with pro football legends Deion Sanders, Jason Taylor and Tony Siragusa to launch the company's "Burgers Across America" Facebook contest.
The Facebook page—which featured burger recipes from the trio of football legends—was designed to get consumers' competitive juices flowing by encouraging them to share how they top Ball Park Flame Grilled Patties using their favorite regionally inspired ingredients.
The Facebook contest was plugged via posts on the Facebook page, as well as tweets posted on the NFL legends' Twitter pages, to help spread the word. Participants were allowed to submit one unique recipe each day for the four-month long campaign.
To spike consumer engagement, fans could view videos of the football legends creating their own regional recipes using Ball Park's hamburger patties, such as Tony Siragusa's "Sizzling Siragusa Burger" (topped with marina sauce, mozzarella cheese and rigatoni placed atop a toasted Italian roll).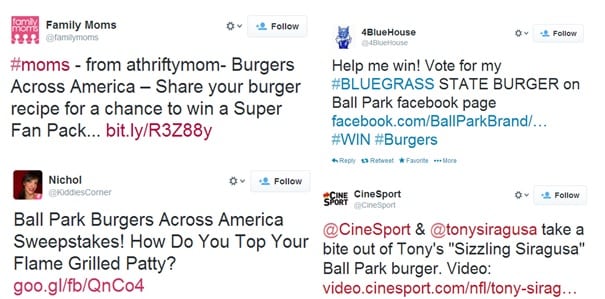 MEDIA BLITZ
But, from a communications standpoint, the football legends were just getting started. Following the launch of the Facebook contest the ex-football players were fanned out to several media outlets.
"Part of our strategy was to leverage athletes to get the sports media to pay attention, but also reach female consumers/shoppers who go the supermarket and make purchasing decisions," Cohen said.
For example, Jason Taylor, a frequent commentator on ESPN's various media platforms, appeared on "The Rachael Ray Show," which runs on ESPN's corporate sibling ABC.
Tony Siragusa, who provides color commentary for NFL games broadcast on Fox, was booked on some of Fox News' programming to talk about the new product while Deion Sanders helped to plug the new hamburger patties on the NFL Network, where he is a regular commentator.
Cohen said the campaign took a very careful approach in working with the triumvirate of ex-athletes.
"It was both a challenge and an opportunity," he said. "We couldn't pitch spokespeople to competing networks, so it was a matter of finding a counterbalance."
Ashley La Croix, senior manager of communications for The Hillshire Brands Co., added: "There's a lot of equity in working with athletes and we want to continue to leverage those relationships in order to get our message out to consumers."
During the Burgers Across America Facebook program, Ball Park aimed to expand its reach via a targeted Facebook ad buy and running Facebook promoted posts.
The targeted ad buy ran during both the submission phase and voting phase, each for a seven-day period, while Facebook promoted posts were implemented five times throughout the program, each lasting for three days.
"What we loved about the campaign is that it touched on several cylinders," La Croix said. "We had a media relations element and outreach to influencers. But we also included social engagement with the brand and asking consumers to get involved with the brand."
She added that surrounding the campaign with original content was paramount, pointing to the importance of video to help convey the overall message about Ball Park entering a new market.
TIME OUT
One valuable lesson stemming from the campaign was in the timing, which coincided with Hurricane Sandy.
"As a team we had to have a conversation around the tragedy," La Croix said, adding that the campaign decided to dial back its PR efforts in the immediate aftermath of the hurricane, which slammed into the northeast on October 29, 2012. Things got back on track in early November.
Putting the Ball Park PR campaign on the back burner for several days didn't hurt the response in the marketplace, which exceeded the company's expectations.
Media coverage, for example, garnered 60 million impressions and more than 70 media placements running in a wide range of media outlets.
In addition to "The Rachael Ray Show," key media placements included Babble.com, "Fox & Friends," MediaPost, The Dallas Morning News, the New York Post and SheKnows.com.
Here are some of the other results from the campaign:
• The contest generated 531 entries, with a KPI (Key Performance Indicator) of 500 entries.
• There were a total of 954 votes for the various recipes submitted, with a KPI of 900-1,200 votes. (The winning recipe was Crazy Chedda' Northeast Chesapeake, Christina B., featuring 2 slices shredded cheddar cheese, a dash of Worcestershire sauce; dash of soy sauce and pinch of ground pepper.)
• The campaign resulted in nearly 14,000 coupon downloads from a designated tab on the Ball Park's Facebook page.
• Ball Park garnered 12,889 new fans for the duration of the PR program.
"Another part of the measurement is the engagement piece and the number of submissions we received," La Croix said. "At the end of the day, we know consumers are engaged with our brand." PRN
CONTACT:
Joe Cohen, JCohen@mww.com; Ashley La Croix, ashley.lacroix@hillshirebrands.com.
Communications Tips for Product Extensions
The roll out of Ball Park Flame Grilled Patties marked the first brand extension since Ball Park was founded in 1957, and was a critical step in repositioning the Ball Park brand from a top hot dog company into a maker of great-tasting guy food. Below are a few rules for PR pros to follow when they implement a brand extension campaign:
▶ Maintain a consistent voice. Launching a brand extension can open the door for added creativity and even some changes in tone, but be careful not to go too far. Consumers become accustomed to hearing a certain voice, particularly for an established brand, and a big deviation could be jarring or elicit a negative response.
▶ Don't rely solely on the product. It seems that almost every day brands are launching products and product extensions. A brand extension in and of itself may not be news. With the Burgers Across America campaign, we showcased the launch of Ball Park Flame Grilled Patties as a news peg, but also tapped into the passion of our fans and our brand heritage to tell a bigger story.
▶ Leverage your brand heritage. Use the existing recognition and credibility that your brand has to your advantage. For the Ball Park Brand, we capitalized upon the brand's sports heritage to launch Flame Grilled Patties and teamed up with former football players to get the word out.
Launching a brand extension can be fun, exciting and lead to tremendous opportunities to tell your story on a larger scale.
This article was written by Ashley La Croix, senior manager of communications at The Hillshire Brands Co.
This story originally ran in the Feb. 24, 2014 issue of PR News. Read more subscriber-only content by becoming a PR News subscriber today.