Become the Online Writing Expert at Your Organization!
Join PR News for this interactive, pre-luncheon workshop!
Register Now
The Pre-Luncheon Workshop on September 14 is from 8 a.m. - 11 a.m. with PR News' Platinum PR Awards Luncheon starting at noon. Both events will be held at the Grand Hyatt in New York City. 
Social media has changed the way most of us write, and the danger for PR professionals is that they may be adopting the worst habits of the social Web and forgetting that clarity and effectiveness in writing remains a bedrock skill and the ultimate differentiator. Join PR News for this Sept. 14 workshop that will enable you to apply key writing tactics to this age of the hashtag, and give your messages the edge over your competition across all social media platforms.
Our trainer will show you how to write compelling content for the Web, blogs and social media; avoid grammar pitfalls; write press releases to grab media attention; and optimize your copy for search. You'll walk away with a sharper set of writing skills to lead your communications team and stay one step ahead of the competition.

As a communicator, you know the importance of great writing and compelling storytelling. But given the enormous amount of information published online daily, press releases, Web site content, tweets and Facebook posts need to be well-crafted to break through the clutter. Powerful writing on the Web and in social media can engage followers, attract media coverage or drive new customers or clients to your brand. 
---
At this 3-hour workshop, you'll learn how to:
Write engaging blog posts
Avoid common grammar mistakes
Craft tweets that stand out in a crowd
Create content that rises to the top of Facebook's news feed
Write compelling Web copy
Optimize press releases and headlines to generate media coverage
Create an online newsroom that engages the media
Write copy that is optimized for search
Write content that is shareable on social media 
Establish a content strategy and editorial calendar
Workshop Trainer:
H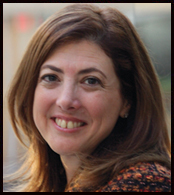 ilary Topper
Founder, HJMT Public Relations Inc.
Hilary Topper is founder of HJMT Public Relations Inc., the public relations, social media, event planning and graphic design agency. HJMT has three office locations -- one in Melville, Long Island; one on Madison Avenue and 57th Street in New York City; and one in Rochester, New York.
In 2007, Hilary made the dramatic decision to launch a new media division within her agency. This decision made her one of the early adopters of social media and has as a result, helped her firm grow substantially in the past five years. In 2008, Hilary started her personal blog called, HilaryTopper.com, which receives more than 30,000 unique visitors each month. In August 2009, Hilary wrote one of the first books on Social Media, Everything You Ever Wanted to Know About Social Media, but were afraid to ask... Building Your Business Using Consumer Generated Media. 
In 2010, Hilary founded the Long Island chapter of the Social Media Club, which currently hosts the largest membership of bloggers, reporters and social media enthusiasts on Long Island. And in 2011, Hilary also launched her very own online radio show through BlogTalk Radio called, Hilary Topper On Air. 
Who Should Attend ?
If you spend at least a quarter of your time in any of these areas, you should attend this workshop:
Community Relations
Corporate Communications
Corporate Social Responsibility
Crisis Management
Digital Communications
Media Relations
Philanthropy
PR Firms
Public Relations
Public Affairs 
Research
Social Media
Certificate of Completion:


Personalized Certificate for all Attendees
Each registration comes with a personalized certificate of completion for attending the PR Writing for Social Media and the Web Workshop.
Price/Location/Local Hotels:
PR Writing for Social Media and the Web Workshop: 
Tactics to Give Your Online Communications a Competitive Edge 
Workshop Time: September 14, 2012 from 8 a.m. - 11 a.m.
Price: $450 Per Person | Register Now
 
 

Per Person 

Group
(2 or more)

PR Writing Workshop 

  $450

 —

PR Writing Workshop & Platinum PR Awards Luncheon 
(Early Bird Rate Rate)

  $1,025

 $1,000
Group = Two or more from the same company. Group price is per person.
Conference Location: 
Grand Hyatt New York
109 East 42nd Street at Grand Central Terminal
New York, New York 10017
Get Directions
Hotel options-  PR News does not have a room block for this event.  Please go to the link here to book your room directly with the Grand Hyatt.
Additional Hotel Options (2 blocks from the Grand Hyatt)  Please call the hotel directly to reserve your room.   
 
Questions
For questions about the workshop or to register by phone contact Saun Sayamongkhun at saun@accessintel.com; 301-354-1694.
 
About PR News
The PR News family of products includes the weekly publication PR News, PR News Webinars and Workshops, the Platinum PR Awards, PR People Awards, CSR Awards, Nonprofit PR Awards, The 100 Best Case Studies Book, Guidebook to Best Practices in CSR; Guidebook to Best Practices in Measurement, Digital PR, Crisis Management and Media Training Guidebooks and PR News Webinars.