Winner: Henson Consulting Inc. – Champs for Charity: Hockey Greats Suit up to Raise Funds for Ronald McDonald House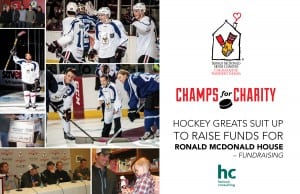 To raise funds and awareness for Ronald McDonald House Charities of Chicagoland and Northwest Indiana (RMHC-CNI), Henson Consulting turned to the ice, creating and executing a new hockey event, Champs for Charity, while simultaneously satisfying the public's desire for live hockey during the NHL lockout.
With less than two weeks to put the event together, Henson and RMHC-CNI had to stoke the interest of some of hockey's greatest players (including Jonathan Toews, Patrick Sharp and Adam Burish) and take advantage of the availability of Chicago's Allstate Arena. Henson researched key sports reporters who covered hockey, developing comprehensive media list. HC also solicited detailed information from event organizers – anticipating reporters' questions – in order to create informative press materials.
Those press materials, a newly designed logo and strong collaboration with the players' agents all contributed to the event's success.
Held on Oct. 26, 2012, Champs for Charity drew 11,649 people, raising more than $325,000 for RMHC-CNI. HC garnered more than 176 million media impressions across television, radio, print and online outlets with placements in top-tier media outlets such as The Washington Post, ESPN, NPR, Chicago Tribune, and Chicago Sun-Times, among many others. —Scott Van Camp
Honorable Mentions:
• Carmelita Group – The #IAM CAMPAIGN
• Florida Realtors – Florida Realtors PAC, "I Give Because…" Campaign