Awards Timeline
Entry Deadline:
July 29, 2016
Extended Deadline:
August 12, 2016
Awards Luncheon:
December 6, 2016
Location:
The National Press Club in Washington, D.C.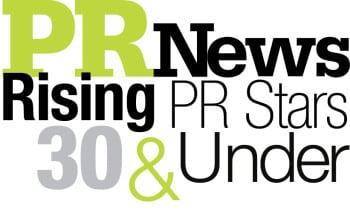 The 2016 Rising PR Stars 30 & Under Honorees have been announced! View the full list here.
This program will open for entry January 2017.

Who are the young PR professionals that have stood out to you this year? It's your turn to decide—enter your favorite young PR professionals in PR News' Rising PR Stars 30 & Under competition. This program, honoring budding PR leaders and creative practitioners, is open to PR professionals age 30 and under. Nominees must be a practicing communications professional at any of the following: a corporation, PR firm, nonprofit/association, educational institution, government organization or industry supplier. Nominees may reside anywhere in the world.
Winners will be recognized at PR News' Rising PR Stars 30 & Under Luncheon on December 6, 2016 at the National Press Club in Washington, D.C.
Thanks to Our Sponsor: Business Wire. 
Who Should Enter?
The Rising PR Stars 30 & Under Awards are open to all individuals worldwide at for-profit and non-profit organizations including: corporations, PR firms, public affairs and IR agencies, publicity firms, associations, government, and NGO teams, and sole practitioners, who are 30 or under on the date the entry is submitted.
How To Enter
You can enter online or by mail using this downloadable entry form.
You can nominate yourself or your colleagues. Your nomination/s need to be submitted by July 29, and include the following:
The nominee's name
The nominee's position (title and organization)
The nominee's age (including birth date if possible)
Your professional relationship to the nominee (*you can self-nominate)
A brief synopsis on why this young PR pro should be named to our list (1 to 2 pages)
At least 3 concrete examples of his or her stellar achievements over the past year (specific campaigns, events, programs – proof that this person shines!)
A sample of his or her work and/or supporting materials (media clips, press materials, campaign results and any other items that prove the nominee should be a Rising PR Star winner!)
Nominee's contact information (full name, title, organization, email and phone)
Your name and contact information so that we may follow up with questions during the judging process
Deadlines/Entry Fees:
Entry Deadline: July 29
Extended Late Deadline: August 12 (submitted by)
Finalists will be notified in November and honored at the Rising PR Stars Awards luncheon on December 6, 2016.
If paying by check, please make the check out to PR News/Access Intelligence.  For questions or additional information, please contact Awards Coordinator Mary-Lou French at mfrench@accessintel.com.
Entry Fees:
The price of each primary entry is $399. The late surcharge is $275 per entry. Payment in full must accompany the entry.
All entries are non-returnable and non-refundable.  
FAQs
How are the entries judged?
Entries are judged by a blue-chip panel of corporate, agency, nonprofit and academic executives, as well as by the staff of PR News. We evaluate your entry based on creativity, innovation, sound planning, implementation and results. Our most important criterion is proven success that aligns with your end goals.
Where can I find the past winners of this program?
View the past winners of this program online here:
2015 Winners
2014 Winners
2013 Winners
Who is eligible to win an award?
Any communications individual – corporate, agency, association, governmental agency or nonprofit – of is eligible to enter the Rising PR Stars 30 & Under Awards Program.
Where and when will the event be held?
The winners and honorable mentions will receive their Rising PR Stars awards at an awards luncheon on December 6, 2016 at the National Press Club in Washington, D.C.
How do I increase my chances of winning an award?
Emphasize your goals, as well as your achievements in your synopsis. Provide as many concrete and specific examples of success as possible, and explain clearly and succinctly the things you have accomplished.
When will I be notified about the status of my entry?
The PR News staff will contact you regarding the status of your entry if you are named a finalist in the awards program. Finalists are notified 30-60 days in advance of the ceremony.
What is your tax ID number?
52-2270063
W-9 Form Request
Questions/Contact Information
Please contact Jessica Placencia at jessica@accessintel.com or 301-354-1713.