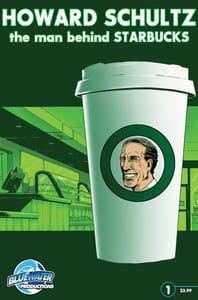 With his new comic book Starbucks Chairman-CEO Howard Schultz offers a unique way to communicate the attributes of his brand and fly above the competition.
"Howard Schultz: The Man Behind Starbucks," which is produced by Blueprint Productions, should inspire public relations executives who are grappling with how to humanize their CEOs.
The comic book is Exhibit A for PR pros who want to put their CEO in a more affable light, which is becoming increasingly vital for brands that want to succeed in a social-media age.
Whether it's via traditional PR channels, such as print, or digital outlets like blogs, CEOs—with a nudge from communicators—need to display more of their personality.
As a growing number of consumersa become conditioned to being "friends" with the companies they keep, there are several PR vehicles that communicators can facilitate for their CEO so he or she can get chummy with customers and prospects.
> Blogs: At the risk of stating the obvious, this is a layup for CEOs. Writing a blog a few times a week provides a way for senior executives to share their passions, hobbies and, dare we say, quirks, in order to show their audiences that they are not obsessed with the top and bottom lines and can talk about their life beyond dollars and cents.
> Podcasts: Does your boss love to chat? Even better, does your boss have a mellifluous and inviting voice? Set him or her up with a weekly podcast; not to shill for the company or the industry but to have a jargon-free conversation about the values of the brand and how it relates to some of the larger issues confronting society. Tossing in a periodic opinion about things that have absolutely nothing to do with the company can't hurt, either. It shows that your boss is able to relate to subject matters beyond a spreadsheet. With apologies to Steve Allen, radio is the theater of the mind—and can help to cultivate your audience(s).
> Video vignettes: Does your boss have a friendly tennis game that he or she plays weekly? Is your CEO a cinema buff? Or does he or she not miss any of their kids' softball games? Arrange for a video crew to (unobtrusively) follow the boss on a personal outing. This can show how gelling out with some friends or cheering on the kids helps the CEO to recharge the batteries and think more holistically about how to improve the brand's products, services and relationships.
So, what are we missing?
Follow Matthew Schwartz: @mpsjourno1