If your brand is on Twitter, it (literally) pays to respond quickly and consistently to followers' tweets. A recent survey conducted by Twitter in partnership with Applied Marketing Science (AMS) found that brands that respond quickly to customer queries on Twitter see increased revenue and brand loyalty, while waiting too long to respond can cause major drops in potential sales.
The research, which spans the airline, telecommunications and fast food industries, expands upon a late 2015 AMS study which surveyed only the airline industry. The results were calculated based on a group of over 3,000 Twitter users who completed a market simulation task called conjoint analysis, which analyzes the factors that determine a buyers' decision to make a purchase.
The release of the study results coincides with reports that Google, Apple and Disney have decided not to submit acquisition bids for Twitter, leaving marketing giant Salesforce the most likely potential buyer.The Twitter study's correlation between customer service tweets and sales could be an enticement for a customer relationship management platform like Salesforce.
Below, the key takeaways from the study:
Responding to customer tweets increases consumers' future willingness to spend from 3 to 20 percent, depending on the industry.
The faster the response, the higher the return. Of the three industries surveyed, telecommunications customers' potential spend decreased the fastest, with a  wait of  just 17 minutes making an 80 percent difference in phone plan revenue.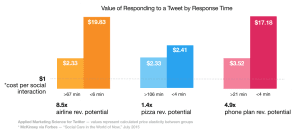 Responding to negative tweets results in higher brand loyalty. Twitter advises brands to prioritize negative tweets over positive ones, but stresses the importance of returning brand loyalists' positive sentiments.

Users who receive responses to their tweets are more likely to share their positive brand experiences on and offline.
Twitter also provides businesses a handy way to respond to customer tweets in a more private forum, by allowing for a Direct Message "deep link" for those with Twitter for Business accounts.
Follow Sophie: @SophieMaerowitz