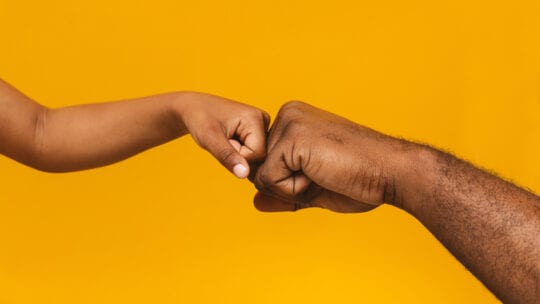 Trust could easily win as an early word-of-the-year in 2021. 
After a deluge of misinformation and disinformation through the 2020 presidential election, confusion from the top when it comes to battling COVID-19, and a recorded public skepticism for media, many organizations, brands and public figures see trust as fundamental to reconnect with communities. It's a necessity in messaging, and it's on communicators to figure out the best way to deliver trust. 
Several recent examples of trust have broken through, establishing a precedence in the new year. 
New Leadership, New Expectations
It's only been a week, but since the presidential inauguration, many Americans' ability to trust seems on the upswing. Much of that trust is credited to the new administration's swift action regarding coronavirus.
An Axios-Ipsos poll released on Jan. 26 said half of Americans have a "great deal or fair amount of trust in the federal government" regarding COVID-19, up from 40 percent before President Joe Biden's inauguration. The poll also shows "trust in Biden has continued to increase since mid-December (58 percent, up from 54 percent), while trust in Trump remains essentially the same (27 percent)."
This rise may be due to a return to daily press briefings or the indoctrination of medical experts, such as Dr. Anthony Fauci, acknowledging a more open approach to the delivery of COVID-19 information to the public.  
Public Wary of Societal Leadership
Earlier this month, the 2021 installment of the Edelman Trust Barometer showed the public blasting leaders across the board on the subject of trust. The culprit was a surge in disinformation. 
The annual survey, conducted across 28 global markets with 33,000 participants, revealed that "a rampant infodemic is fueling widespread mistrust of societal leaders." An Edelman statement said "a majority of respondents believe that government leaders (57 percent), business leaders (56 percent) and journalists (59 percent) are purposely trying to mislead people by saying things they know are false."
In short, communicators have a LOT of work to do. 
"This is the era of information bankruptcy," Richard Edelman, the Edelman CEO, said. "We've been lied to by those in charge, and media sources are seen as politicized and biased. The result is a lack of quality information and increased divisiveness."
A bright spot is the business sector. It replaced government as the most trusted institution. The Trust Barometer said business earned the public trust by "proactively developing vaccines in record time and finding new ways to work." Communication from employers (61 percent) was found to be the most trusted source of information, besting messaging from national government (58 percent), traditional media (57 percent) and social media (39 percent).
Twitter Launches Birdwatch
Twitter, which has taken steps to combat misinformation—such as removing former president Donald Trump and My Pillow CEO Mike Lindell, among others, from the platform—is calling on the public to become part of promoting truth. 
The platform launched trust-building tool Birdwatch on Jan. 25. Currently available only in the U.S., Birdwatch will provide a "community-based approach to misinformation." 
"Birdwatch allows people to identify information in Tweets they believe is misleading and write notes that provide informative context," a Twitter blog said. The blog explains the logistical aspects of Birdwatch in detail, and who was vetted to test and approve the pilot-version of the product. 
This profiles a real move by Twitter to protect users and promote delivery of accurate information. Including the public also extends a hand to signify a trustworthy partnership, with a common goal.
Nicole Schuman is senior editor for PRNEWS. Follow her @buffalogal