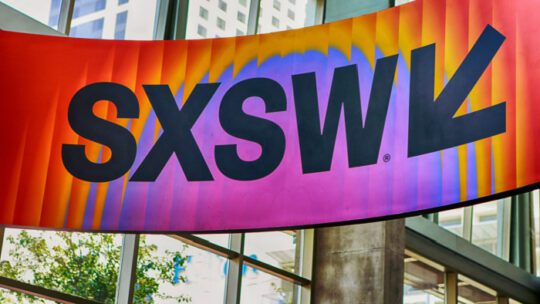 After a whirlwind few days in Austin soaking up the latest in tech, culture and breakfast tacos, I'm here with a recap of the top digital takeaways. As a first-time SXSW attendee, I was inspired to see how the worlds of technology, education, government, and culture blended together.
From eavesdropping on people's Silicon Valley Bank debates, to celebrating "Everything Everywhere All At Once"'s big Oscar win, (a movie that debuted at last year's SXSW Film & TV Festival), and hearing what Iron Man himself had to say about cyber security and digital crime, I was invigorated to be at the center of the meeting of these worlds.
With that in mind here are some of my key takeaways:
AR, AI & Meta, Oh my!  
AR, VR, ChatGPT, AI, and the metaverse were paramount to the SXSW agenda. From Cinder, the VR influencer slinging drinks on Rainey St. to keynote addresses on ChatGPT, it was clear that these technologies are playing a large role both in consumer-facing activations and as industry tools.
However, as was emphasized time and again, these technologies often highlight areas where humanity needs to shine through. From the Disney Corporation's debut of a tiny Tinkerbell to psychiatrist Esther Perel pointing out that no matter how connected we are in this new 'verse, these technologies are an opportunity to expand upon our own creativity and humanity.
So what's the key takeaway? New platforms open up opportunities to communicate your clients' messaging in an effective, attention-grabbing and engaging way. These new technologies capture the imagination and add the "WOW" factor for major brands.
Rise of the Multi-Hyphenate
In today's digital creator economy, people are thriving by sharing all aspects of their personalities.
From Dr. Ali Rodriguez showing off her dance skills and makeup routines while imparting medical advice, to Kevin and the 'Nard Dog from "The Office" (aka Brian Baumgarten and Ed Helms) talking about their respective podcasts, we've evolved into a world where people live their lives openly online.
We're asking people to share more than they ever have before, and we're also seeing a deterioration of the traditional roles a celebrity once filled. People want to know more about what makes a person tick to feel a true connection, because we know no human is one-dimensional.
From a PR perspective, we see that consumers are craving a more intimate relationship with the people they follow, changing the roles spokespeople and traditional celebrities play. Consumers are craving more; more authenticity, access, and connection.
The Pandemic's Effects are Still Infiltrating Culture 
Just as Little Women begins, "necessity [is] the mother of invention," we're still seeing innovation from the pandemic coming to life.
Disney Parks's Josh D'Amaro explained, for example, that the VR and AR features they developed when the parks closed during the pandemic are now at the forefront of redefining the park experience. He shared an example using the premiere of a movie based on Dungeons and Dragons, which had a huge resurgence during the lockdown.
As PR professionals, we need to stay on top of the changing landscape. The major events from the last three years have created lasting change at all levels of culture.
Storytelling and Authenticity 
We've all noticed patterns and trends to shape content, and TikTok presented a case study where the platform allowed influencers to drive the creation and ideation of content.
By tapping into the genuine authenticity that consumers crave, you maximize ROI and create the opportunity to grow at scale. "Authenticity" is a word that came up repeatedly, as was "storytelling."
People are craving humanity and human connection, so whether Disney Parks described how music can enhance the ability to create a lasting memory, or Rep. Leslie Herod and Nick Jonas talked about the importance of destigmatizing diseases like diabetes, there was a focus on the human side of tech.
No matter how cool VR may be, human connection must be at the forefront.
As PR professionals, we must always keep authenticity and storytelling front and center in our work. There's no substitute, and there's no shortcut for those genuine connections.
Everyone is Connected
Chelsea Handler and Jen Psaki started a conversation about their daily routines by admitting they try not to look at their phones first thing in the morning; instead, they prefer to meditate. They then confessed they both use meditation apps, so they immediately break that rule.
Disney Parks closed its demonstration with the Hulk coming to life by inviting us to imagine what it would be like if you could have the full experience from the comfort of your own home.
Holly Frey, host of "Stuff You Missed in History Class" talked about the intimate relationship we have with podcasts, calling out how we cook, shower, commute, and talk out loud with them.
However, nowhere was it said more effectively than by Jose Andres of World Central Kitchen. Speaking about his team members providing meals in the Ukraine, he said: "In these videos you see the people who are making it happen. Not claiming what they will do tomorrow… These are people who, when they promise you something, they are showing you what they are doing right now."
Technology has given us a microphone and a 24/7 window to the world. As PR professionals, we have to recognize the way this has changed the landscape, and continue to find ways to amplify the stories we tell. People are listening closely; we need to keep working on the art of finding the right message and medium to get it across.
Jessica Kelly, Senior Account Supervisor, MMC