It's an old lesson in PR and marketing–people make purchases when they feel good about what they're buying. As such, it behooves companies and organizations to build and maintain good relations with stakeholders and prospective stakeholders. Sometimes, peppering communication about colleges and universities with nostalgia, history and mascots bolsters positive sentiment toward them.
Since for many schools, the new term begins in August, Shareablee powered by Comscore tracked academic-themed social posts for us.
In data it provided to PRNEWS exclusively, consumer engagement with college and university social posts rose 31 percent YOY.  The period examined was June 25-July 25, 2021, and this year.
In the charts below, consumer engagement is listed as actions, which is defined as the sum of likes, shares and comments a post receives.
Shareablee tracked posts that included words such as apply, application, visit, tour, contact, admission and admissions.
As you'd expect, major themes included schools touting their campuses and offering virtual tours, providing information about applying and highlighting favorable data and rankings, says Madison Busick, an analyst at Comscore.
Across Facebook, Instagram and Twitter, there were 537K consumer actions, with more than half (358.2K) on Instagram.
Most Action on Instagram
However, the two most-efficient posts had only tangential connections with admissions.
A Baylor University Instagram post was the most efficient, with 28.2K actions on its single piece of content. However, its post didn't touch admissions, but instead honored Joy, one of the university's bears.
Similarly, the next most-efficient school was Texas A&M University, which saw 11.7K actions on its post, which explained the history behind a Liberty Bell replica on campus.
Significant consumer engagement with these two posts proves our point. While college and university admissions information is important, don't ignore the marketing value of mascots, campus history and nostalgia in communication.
Higher Engagement on Facebook
Efficiencies on Facebook were even higher for the top poster. With just two pieces of content, The University of Arizona Global Campus averaged 37.9K per post. Both posts discuss challenges and accomplishments of the program's graduates.
The most prolific poster on Facebook, West Point - The U.S. Military Academy, received an average of just 1.6K actions per piece of content. Least efficient was Auburn University, averaging just fewer than 500 actions per post.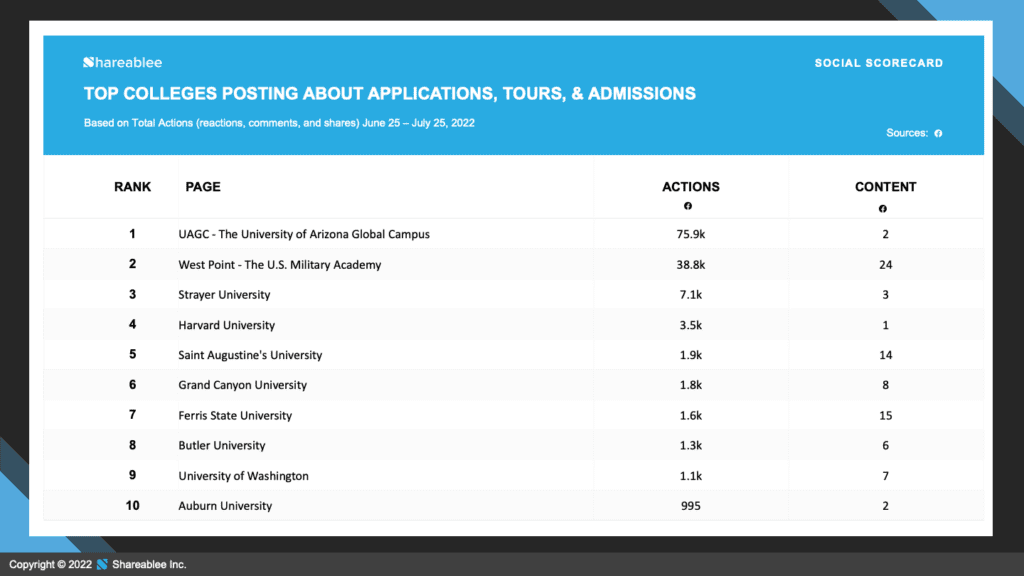 Low Engagement on Twitter
Twitter saw the fewest consumer actions on admissions-related content. Michigan State University was the most efficient, with 377 actions on its single piece of content.