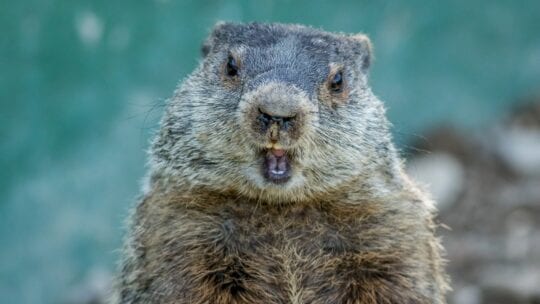 Most PR professionals seek to build the utmost trust between clients and the public. This can come from paying attention to stakeholder needs and following through on promises. Say what you mean and mean what you say is an old adage, but also a fundamental goal when communicating with audiences. 
This week's notable PR items and stories lean into trust. Some connections strengthen with time and public approval. Others can break when straightforward facts and figures are not provided.   
Groundhog Sees Shadow, Stays True to Brand
What happened: Once again on Feb. 2, Punxsutawney Phil appeared to a sea of onlookers, showing his shadow and predicting six more weeks of winter. 
Communication lessons: Santa Claus. The Easter Bunny. Punxsutawney Phil. Paul Rudd. 
These public figures established a name by delivering on their promises. They have a duty—whether it's driving a sleigh, delivering eggs, popping out on Feb. 2 to forecast the weather or perpetually playing the awkward, yet endearing good guy—and it's consistently completed. 
While many may not like what Phil predicts, people know they can expect one of two things—shadow or no shadow. And year after year, that's what they get. People continue to tune in because Phil's a trusted source for a take on what's to come.
Now, Phil is no weatherman. He has just a 40% accuracy rating, according to NOAA data (2012-2021). Hey, Santa doesn't always get it right either. Remember those bunny slippers you received in tenth grade? 
Regardless, people follow Phil. They appreciate tradition. And spectacle. That groundhog sure loves the spotlight, appearing year after year. 
If your CEO, leadership or company delivers consistently what stakeholders ask for, they too will achieve a level of trust and loyalty that can only be assumed by someone as clockwork as Punxsutawney Phil. 
Intel CEO's Pay Cut Steers Conversation
What happened: This week Reuters reported that in an effort to curb layoffs, Intel's CEO and executive staff will take pay cuts up to 25%. CEO Pat Gelsinger is taking the largest, at 25%.
An Intel spokesperson told Insider the salary adjustments are part of a larger plan to "navigate macro-economic headwinds and work to reduce costs across the company." 
The changes come as Intel prepares to build chip manufacturing plants in the U.S. and Europe so it can compete with companies in Asia. Also, in cooperation with Washington's push for more domestic chip manufacturing through the 2022 CHIPS & Science Act, Intel broke ground on a manufacturing plant in Ohio in September. 
Communication lessons: While Gelsinger is not the first CEO to take a pay cut for a company's benefit (Apple CEO Tim Cook slashed his take-home pay 40% this year), the news comes at a prime moment. During the past several months, a lot of companies, many in the tech sector, announced layoffs. 
Action speaks louder than words. In a blog post, Google CEO Sundar Pichai wrote that he takes "full responsibility" for his company's layoffs. That's cool, but it doesn't change the fact that 12,000 people will need to find new jobs. For a company that made $12 billion dollars in one quarter, words can ring pretty empty without action from leadership. 
And yes, companies suffer economic difficulties. It happens. However, a CEO showing, not telling, employees how he can help will be impactful, for workers and public perception, for years to come. 
Questions Arise About Police Communication on Tyre Nichols
What happened? The beating death of Tyre Nichols, 29, at the hands of 5 Memphis police officers during a Jan. 7 traffic stop spurred countrywide anger as well as myriad questions. Among them are queries about language police employed in their initial press release and police report. 
Footage from police body cams and other cameras indicates what occurred that evening bears little resemblance to content in the press release and police report. Though it was later reversed, the police's initial statement describes the Nichols debacle as a "confrontation."
In addition, it mentions Nichols experienced "shortness of breath." Minneapolis police used a similar tactic when communicating about the late George Floyd, who, police said, died after "a medical incident." That explanation held until a teen's video disproved it.
The Memphis police report claims Nichols was violent.
Communication lessons: It's a sad state of affairs when PR pros are considering how law enforcement's press releases and police reports can seemingly ignore death at the hands of officers.
In a PRNEWS essay, communicator John Guilfoil notes police departments sometimes keep their communicators out of the loop. Likewise, when businesses degrade communication's role, the results sometimes are "disastrous," he writes.  
Often, the police communicator composes a statement from just a single source. Sometimes the source provides faulty information.
Still, Guilfoil faults police communicators for using "vague" language in statements. When a statement includes incorrect details, everything a police department says is questioned, he adds.
Typically, an officer on scene writes a police report. Including false information in a report can disqualify the writer-officer from testifying in court. In addition, all the officer's arrests and other activities are questioned, Guilfoil writes.
The emergence of video changes the complexion of police communication. Similarly, PR pros in myriad sectors know mobile phones and digital technology make every interaction between the public and your organization a potential PR incident.
On the other hand, video is not a panacea. The Washington Post reports instances where some police, knowing they're on camera, may provide untruthful narration, seeking to influence a video's message in their favor.
Similarly, the Post notes Memphis Police's initial tweet about Nichols gave some social media users an incorrect view of what happened. 
Join us next Friday for another PR roundup.
Nicole Schuman is senior editor for PRNEWS. Follow her: @buffalogal
Seth Arenstein, editor of PRNEWS and Crisis Insider, contributed to this report. Follow him: @skarenstein