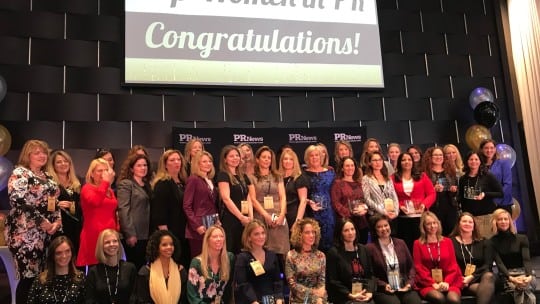 Each January, PR News celebrates women who not only are best-in-class communicators, they are leaders who continue to inspire the next generations of women to rise to the C-suite level at brands, nonprofit organizations and agencies.
On Jan. 23, 2018, PR News once again honored the Top Women in PR at New York's Grand Hyatt.
The winners of PR News' 2018 Top Women in PR Awards span a wide variety of organizations, from brands like Nissan, Prudential, Dell, World Wildlife Fund and FedEx to agencies such as Weber Shandwick, Burson-Marsteller, Ogilvy and Ruder Finn.The winners were judged on the strength of communications campaigns they've led in the last 18 months and on the positive influence they've had on their teams and peers.
Attendees heard a keynote presentation from Melissa Bernstein, co-founder and chief creative officer of toy company Melissa & Doug, who spoke about why failure is a much more valuable teacher than success.
Bernstein has created close to 10,000 items in the company's 30-year history and the actual number of failures well exceeded the number of products that made it to the shelves.
"I am only here speaking to you today because I have failed so many times I learned who I truly am and how to succeed," she said. "I implore you to find the courage to try, even if you fall flat on your face. You have the strength, trust me, to get right back up and move forward with new self-awareness and wisdom."
At the Jan. 23 luncheon in New York, the Top Women in PR honorees inspired their peers with their accomplishments as well as their thoughts on the women who have inspired them in their personal and professional lives.
Honorees also offered up advice that they would give their 17-year old selves. Here's a sampling:
"Norms are for normal people," said Adrienne Chance, director of corporate communications for Topgolf. "You won't become exceptional by knocking softly on the front door of opportunity."
"Go with your instinct," said Nisha Morris, executive director of public relations for Providence St. Joseph Health. "It will never fail you."
"Become obsessed with your passion," said Megan Vega of KPMG Studios. "Surround yourself with those who ignite your desire to learn and grow. Passion is contagious, and as you turn your passion into a career, you will inspire others to achieve more."
Joining PR News' editorial staffers on the podium was guest co-presenter Angela Alfano, who helps lead communications for Tough Mudder, Inc., and who was among PR News' 2017 PR Rising Stars 30 and Under.
See profiles of all of PR News' 2018 Top Women in PR.
Follow Jerry: @Jascierto