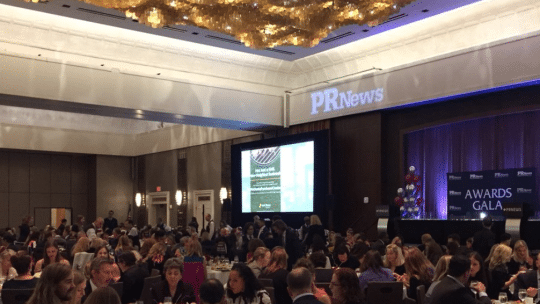 Each year, PR News recognizes outstanding achievements in communications and marketing at its Platinum PR Awards luncheon. The 2018 event, hosted at the Grand Hyatt in New York City on Sept. 21, saw nearly 500 top brand and agency communicators come together to celebrate the accomplishments of their colleagues in the previous year.
The Platinum PR Awards benchmarks top communications campaigns and leaders in a wide array of categories such as advocacy, branding, social media and PR Professional of the Year, among others. PR News also inducted six new campaigns into its Platinum Hall of Fame, as well as announcing winners and honorable mentions of its 2018 Agency Elite Awards.
Award-winning journalist and ESPN sportscaster Hannah Storm hosted the program and acted as keynote speaker. Storm also helped PR News editorial staff to announce the day's winners and honorable mentions, along with Sarah Shepard, group vice president at Business Wire and Tatiana Holifield-Arthur, senior director of social media and digital marketing strategy at BET Networks.
Once announced, winners from brands like HP, National Geographic and Planet Fitness offered insights into their exemplary campaigns from the stage. In an inspiring fireside chat, Storm spoke with PR News Senior Content Manager Sophie Maerowitz about her career as the first solo woman to anchor a sports program, how she juggles messaging about her charitable foundation with that of her journalism role and production company and her advice for PR pros to build better relationships with the media.
What resonated most with attendees, though, was her insights about the use of vulnerability in branded storytelling. "When something comes from the heart, that's what authenticity is," Storm explained. "It's something real, and that's something we demand and expect."
This also plays into her work with brands as an influencer, and can apply to any company dabbling in influencer marketing to promote a product or campaign. "It has to be something that both you and the influencer believe in, not something that someone's just slapping your name on to make a quick buck. If they really love your product they're going to be much more enthusiastic and their message is going to resonate so much more," said Storm. So, she advised, hold out for that perfect influencer, rather than picking just anyone with a high follower count.
Attendees shared their excitement for the day on Twitter, celebrating their wins with their teammates and keeping with the communal spirit of the day.
Spending the afternoon with the best of the best in #PR. So honored @AR__PR is a finalist for Small Agency of the Year! #PRNews pic.twitter.com/HNw0NSWvRp

— Anna Ruth Williams (@AnnaRuth) September 21, 2018
"Always go where there's a need" is why @HannahStormESPN started her production company @PRNews #prnews #greatadvice pic.twitter.com/AkdMneWGYr

— Sarah ShepardShepNYC (@ShepNYC) September 21, 2018
For a full list of PR News' 2018 Platinum PR Awards winners and honorable mentions, visit the 2018 Platinum PR & Agency Elite Awards site.