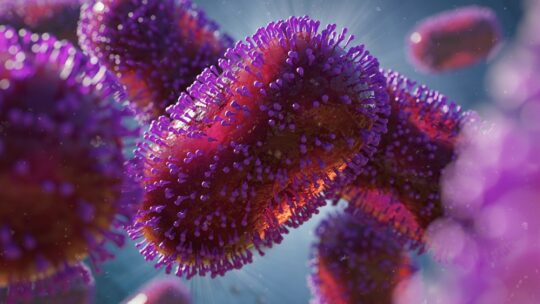 On July 23, the World Health Organization declared monkeypox a Public Health Emergency of International Concern (PHEIC). As of Aug. 9, the WHO reported more than 28,000 confirmed cases across 80-plus countries. 
After dealing with millions of COVID cases and deaths, monkeypox numbers may seem non-threatening. Yet cases are growing in affected countries at a 9.4% increase per week, according to WHO.
The United States and several European countries lead the world in cases, which may leave many wondering—How serious is this, and should I be worried? 
It seems the media may be just as lost as the public. There's coverage, but monkeypox isn't blanketing the mainstream.
Finding information may be difficult for patients or those who just have questions.
However, the Centers for Disease Control has rolled out information on its website. This includes content on transmission, symptoms, treatment and vaccines. 
Criticism and Outreach
For those looking elsewhere for information, HBO's "Last Week With John Oliver" dedicated an episode to monkeypox (Aug. 7). It included a clip from Amesh Adalja, assistant professor, Bloomberg School of Public Health, and senior scholar, Johns Hopkins University Center for Health Security. Adalja argues the U.S. is not ready for monkeypox despite a dry run with COVID.
Some media are tackling the bigger monkeypox picture and reflecting on how it may impact certain populations and industries. For example, CNN.com posted a story on monkeypox and college campuses, as back-to-school is around the corner.
The story includes a quote from an incoming student at New York University, who says the school hasn't sent "much" about monkeypox, despite New York City's outbreak. 
On the other hand, the story says some colleges are communicating well with students by following protocols put in place during the COVID outbreak. 
Correct Targets
When COVID appeared during winter 2019 in China and became a global pandemic in early March 2020, a major problem for communicators was a lack of scientific information. It was a new disease.
However, monkeypox is different—medical science knows about it—but if information is not getting to the right people, or getting out at all, that knowledge won't help much. This leaves room for disinformation.
For example, while monkeypox is transmitted through skin-to-skin contact, it's not labeled a sexually-transmitted disease. That's a big point of confusion, says Mary Jane Dessables, former director of information, research and accountability at the Council of Family and Child Caring Agencies.  
Unfortunately, "that leads people to tune...out" information. This is dangerous "especially since the current data shows men who have sex with men or have multiple partners make up a large portion" of patients in the U.S., Dessables says.   
Disease Fatigue
Another hurdle may be that the public is suffering from "disease fatigue."
"Medical communications teams were burned in COVID," she says. Some were accused of "hyping the danger." Others were attacked for providing misinformation "when science discovered new information about the disease, transmission, the vaccines, etc."
She understands why communicators are hesitant "to go full-out, sounding the alarm for monkeypox—no one wants to be 'the boy who cried wolf.'"
However, remaining silent is a problem. "Populations who are more likely to have persistent skin-to-skin contact need targeted messaging," Dessables says.
This includes people "living or working in group settings, like dorms or nursing homes." Such groups "should be getting information specific to identifying signs and taking precautions." 
The Right Message
Government communicators struggle with red tape and process to decide the best ways to relay information. This may cause the public to look elsewhere. On the other hand, responding too quickly can force inaccuracies.
While CDC communication may be the gold standard, it's important to have patience with authorities, say Sarah Natoli, VP, health strategy, and Gabby Duran, SVP, health, at Allison+Partners. 
"...[M]any different voices and stakeholders tend to chime in with information and conjecture in these situations," Natoli and Duran tell PRNEWS in a written statement. "Intentions are good, but this creates a noisy landscape where it's difficult to distill what is accurate."
In addition, while monkeypox is not an unknown disease, authorities continue gathering and analyzing data, Natoli and Duran say. 
"While there is immense pressure" on the federal government, "we would not actually want any agency to rush to react and risk providing inaccurate information."
Similar to what happened during the pandemic, the public often seeks information from local authorities.
"Individuals can look to their local public health officials, as well as their physicians, to provide information about which populations are impacted, what the best treatment is, and, of course, preventative measures," they say.
In the end, "it remains vitally important to check the source of information and refrain from speculating or providing disinformation," the two add.
Nicole Schuman is senior editor for PRNEWS. Follow her @buffalogal