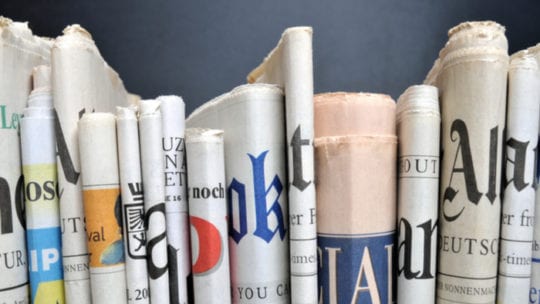 Many communicators have built careers in part on securing free, earned media. So, my recommendation to companies might seem surprising: Buy advertising. A lot of it. On news sites, trades, in newspapers and magazines – now! Divert budget from digital marketing, Google and Facebook ads and invest in traditional media. It will not only strengthen your brand, but it just might save journalism.
Many communicators are working from home, duplicating the services we did in our offices. We continue to pitch stories, but now with an "amid the COVID-19 crisis" angle.  Other than that, media relations work is basically the same. Added to the work, though, is a daily battle with social distancing fatigue. In addition, some media relations pros are homeschooling kids, not to mention Zooming family birthday parties and graduations.
Though our jobs are the same, there are two important trends that have grown: job insecurity in journalism and a shrinking number of outlets and writers.
Everything Old is New Again
COVID-19's new wrinkle is that many of our media counterparts are dealing with financially devastating unpaid furlough days. This is in addition to layoffs and publication closings, which are not new, but have accelerated during the pandemic.
For example, 72-year-old "San Diego Magazine" closed in late March.  "San Diego Home and Garden" followed. Then, just last week, the "San Diego Union Tribune," San Diego County's only daily, announced some news writers would have to take unpaid furlough days to offset losses from a steep decline in ad revenue.
Nationally, the story is similar. Recently, 155 people at Vice Media lost their jobs. Quartz laid off 80. Condé Nast, publisher of "Vogue" and other luxury magazines, cut 100 jobs. "The Atlantic" cut 68 jobs. BuzzFeed recently furloughed staffers at its overseas divisions.
Grim Statistics
Over the past 15 years, about one in five papers in the US have closed and the number of journalists working for newspapers has been cut by 50 percent, according to the University of North Carolina's School of Media and Journalism. This is leaving thousands of communities at risk of becoming news deserts. In addition, it is dangerous to society because of journalism's vital role. Media seeks and reports accurate data, keeps government and companies honest, informs consumers and creates community connections.
As communicators know well, newspapers are fading due primarily to declining ad revenue. Pew Research says US newspaper advertising revenue fell 62 percent, from $37.8 billion in 2008 to $14.3 billion in 2018. At the same time, social ad spending has grown significantly. It is forecasted to increase 20 percent, to $43 billion, in 2020.
More Threatening
This latest string of coronavirus-related cuts seems somehow scarier, though. Closings and layoffs are happening across the spectrum – from city magazines and daily papers to digital media's most successful.
So, companies that can afford it need to buy advertising in traditional media. Pick your favorites, the ones you read, rely on for impartial facts, or that run stories about your company. Think of it as an investment in your community, your industry, and free speech.
Brand Benefit
Your brand will get incredible benefit, too – with the right messaging. Consumers are demanding that brands act and communicate responsibly during COVID-19. Nearly 65 percent say how brands respond to the pandemic will have a "huge impact" on their likelihood to buy their products, according to the Edelman Trust Barometer.
Consider also that people are consuming news like never before. With your ad next to a chart showing a COVID-19 curve in your city, or an announcement about more retailers and services opening, or a story about the stock market or economy, you will benefit from thousands of readers seeing your branding. And you'll help save American journalism while you're at it.
Bonnie D. Shaw is president of Clearpoint Agency