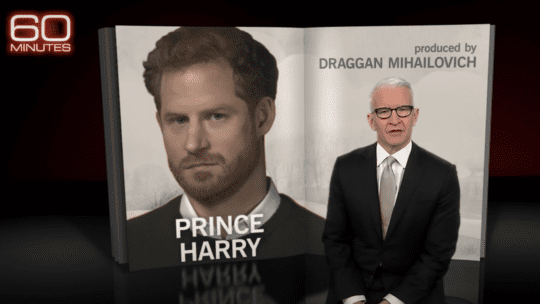 Communicators may have noticed a caveat during Anderson Cooper's "60 Minutes" interview with Prince Harry, Jan. 8. Cooper said, "We reached out to Buckingham Palace for comment. Its representatives demanded that before considering responding, 60 Minutes provide them with our report prior to airing it tonight, which is something we never do." 
As such, Buckingham Palace did not respond to "60 Minutes'" request for comment. 
The interview ran two days before the release of Harry's tell-all memoir, "Spare".
Do PR pros expect journalists to hand over the goods?
PRNEWS conducted a poll Jan. 9, asking respondents how they'd handle a similar situation. Should a person, a company or organization review content before being asked to comment on it? The poll posted on LinkedIn and Twitter.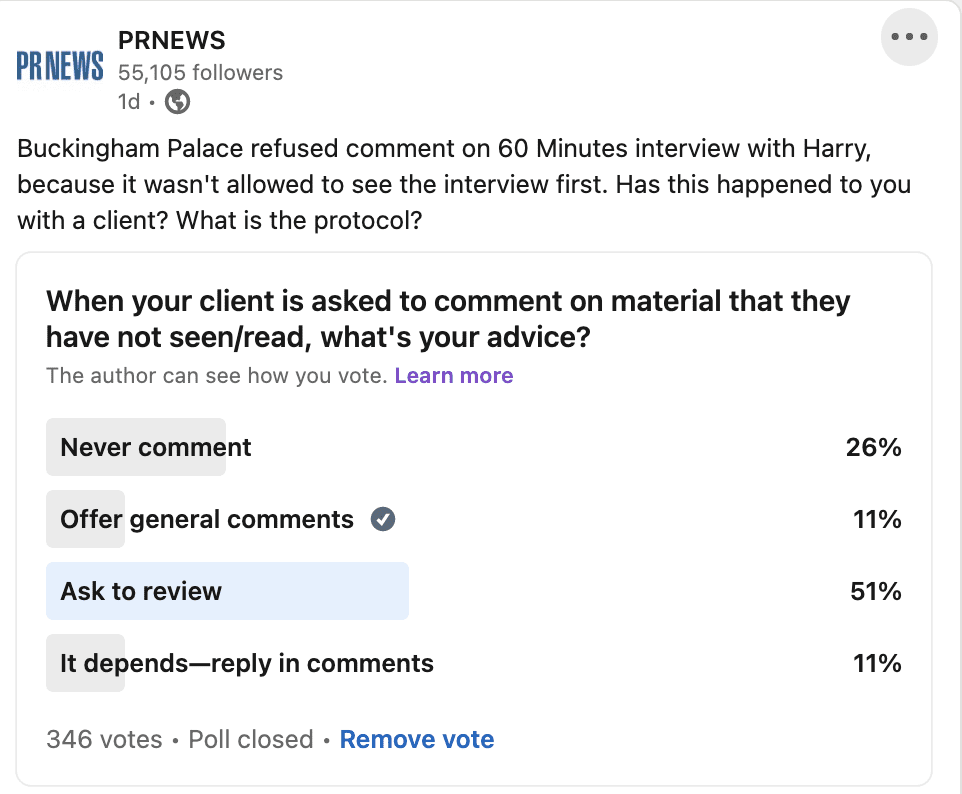 Buckingham Palace refused comment on @60Minutes interview w Harry because it wasn't allowed to see the interview first. When your client is asked to comment on material that they have not seen/read, what's your advice?

— PRNEWS (@PRNews) January 9, 2023
As you can see, a small majority (51%) believe asking to review content is the right option; 26% say they advise those they counsel not to comment on unseen/unread material. Some say they'll comment after seeing quotes or a summary of content. 
Ron Fournier, president, Truscott Rossman, and former reporter and editor for The Associated Press, National Journal and Crain's Detroit Business, says issuing a "no comment" is a missed opportunity. No comment "is a surrender and surrendering means losing. Never pass up a chance to tell your story. Even when you don't know how others are telling the story."
Yet Fournier acknowledges media has "no obligation" to share content before publication. PR pros should make those they advise aware of this, he adds. Still, he believes no comment is a mistake. 
A surprising majority
Anne Marie Squeo, another former journalist and founder of Proof Point Communications, was surprised so many communicators thought reviewing stories was the best route. "It's simply not done by serious journalists," she says.
On the other hand, Squeo believes media should "provide a sense" of where a story is headed if it wants comments about "specific claims."
Still, she says, there is no reason Buckingham Palace couldn't have told "60 Minutes": "While we have not seen the [60 Minutes] piece or read Prince Harry's book, he remains an important part of this family and we will continue to work to repair relations with him and his wife.""
Executive Summary
Many poll respondents tell us they are fine with a company or executive commenting on material after receiving a summary of it.  
And for communicators working with complicated, technical subjects—it's appreciated when media sends portions of pre-published content to double check the facts and figures.  
"I'm fortunate that some journalists will share with me relevant graphs to ensure accuracy," says Dawn Cwierley, senior writer and communications officer for the Jacobs School of Medicine and Biomedical Sciences at the University at Buffalo. "But the complete sharing of a story ahead of publishing should never be expected. If anything, you can ask for some highlights to ensure that your comments are on track."
A mixed bag of policies
News organizations have a variety of policies about sharing quotes, passages and entire stories, according to a May 2020 Poynter article.
Some outlets, like The Washington Post, allow a review of quotes or facts with the source for accuracy. The Denver Post's policy "bans sending content back to sources, except when a senior editor approves sharing passages from stories in the interest of accuracy." 
It's unclear whether or not the Palace sought the entire "60 Minutes" interview, excerpts or a summary.
Andrew Galarneau, a tenured editor at The Buffalo News and adjunct journalism instructor at University at Buffalo, says the U.S. industry standard is no pre-publication review, other than information specifically attributed to a person, including quotes.
"If people ask me to read back their quotes, no problem," he says. "Other than that, no. Sorry. That is outside your purview. End of story."
Nicole Schuman is senior editor for PRNEWS. Follow her @buffalogal