It has been said that 90% of women have cellulite, and 100% of those women hate it.
Cellulite is not just a scourge of the overweight. Women, regardless of their lifestyle, weight and age, are prone to cellulite. There are numerous products that promise to combat cellulite, but scores of women are unhappy with the results.
Merz developed a solution called Cellfina that combines proprietary technology with subcision, a medical procedure used on dermatological patients with acne scars, to treat the primary structural cause of cellulite.
Eventually the solution received Food and Drug Administration (FDA) clearance. It also received high scores in a clinical trial.
When PR & marketing firm EvolveMKD began working with Cellfina, its charge was to spread the word about this little-known solution to women and doctors, who could offer the procedure.
The Issues
One of the first challenges was the crowded market for cellulite treatments. This is far from a unique hurdle. New entrants in many categories face the issue of breaking through the clutter of a saturated market.
Where Cellfina faced a somewhat unusual issue was in the market's attitude. Women were and are highly skeptical of cellulite remedies. As we noted above, there are many exercises, creams and potions already on the market that promise to combat cellulite. Our research found women were disappointed with many of them. As a result, Cellfina needed to overcome the market's innate skepticism as being just one more new product that promises to fight cellulite.
Related to the above issue, Cellfina also had to overcome skepticism in the medical community. Many doctors had purchased expensive devices for treatments only to have unhappy patients complain when their cellulite remained noticeable. Evolve and the Cellfina team needed to communicate the difference its product promised. FDA clearance and positive studies helped make the case.
---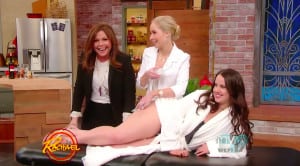 ---
Strategies and Tactics
The multi-pronged approach developed for the campaign started with an examination of women's perceptions of cellulite treatments and where Cellfina could take them. This was accomplished by conducting surveys and clinical studies. The plan was to leverage real patient testimonials, partner with key opinion leaders (KOLs) and deliver on-brand messaging and visuals in all communication to illustrate the problem, sympathize with the consumer's issues and offer a solution.
The campaign focused on creating buzz around Cellfina by getting a conversation started in the media and engaging with influencers who could carry the message to targeted audiences. This involved several tactics.
Created a steady drumbeat of coverage across beauty, lifestyle, aesthetics, health & wellbeing media. Cellfina was featured in long-lead magazine stories and segments about the treatment were featured on a variety of national and regional broadcast media outlets. Feature coverage was generated through targeted media outreach. The pitch for Cellfina was tailored to outlets in ways that we felt it would resonate best with their audiences. In addition, through strong media and physician relationships, we were able to integrate Cellfina into stories and segments that were being produced.
Partnered with influencers to bring brand messaging to life and make it relatable to consumers through an ownable social media content series titled Cheeky Humor. We decided to use humor after analysis showed Cellfina's social media community was strongly engaging with content focused on quotes and situations that women could relate to, especially when tied to confidence and humor. A pair of female comedians was tapped to create a series of booty-based one-liners designed to be funny, relatable and shareable. Adding an element of fun and not taking ourselves too seriously helped drive the brand personality and generate interest and awareness on social.
Identified media and influencers who had mentioned dissatisfaction with their cellulite and offered Cellfina treatments to them. From there influencers were asked to relate personal stories about cellulite, including past treatments that had failed to work. A key fitness and lifestyle influencer told her story online and across social, showcasing the treatment through photos and videos. Positive feedback from the social community has resulted in a larger content partnership between the brand and this influencer.
Highlighted personal stories of patients in a series of first-person videos that were shared via social and on the brand's website. A central tenet of journalism is providing material readers can use. As such, media appreciated having the opportunity to engage with physicians and patients who could speak to their experience with Cellfina. The patient testimonials resonated since many women share the experience of being embarrassed in bathing suits or shorts. Patients were identified through our partnerships with key physicians. The doctors recommended patients they had treated with Cellfina who had seen optimal results.
Tied into pop culture moments to demonstrate relevancy by capitalizing on key moments with creative pitches. Cellfina was mentioned in numerous red-carpet prep round-ups and Get-Ready-for-Summer stories. Again, this earned media was accomplished through targeted outreach.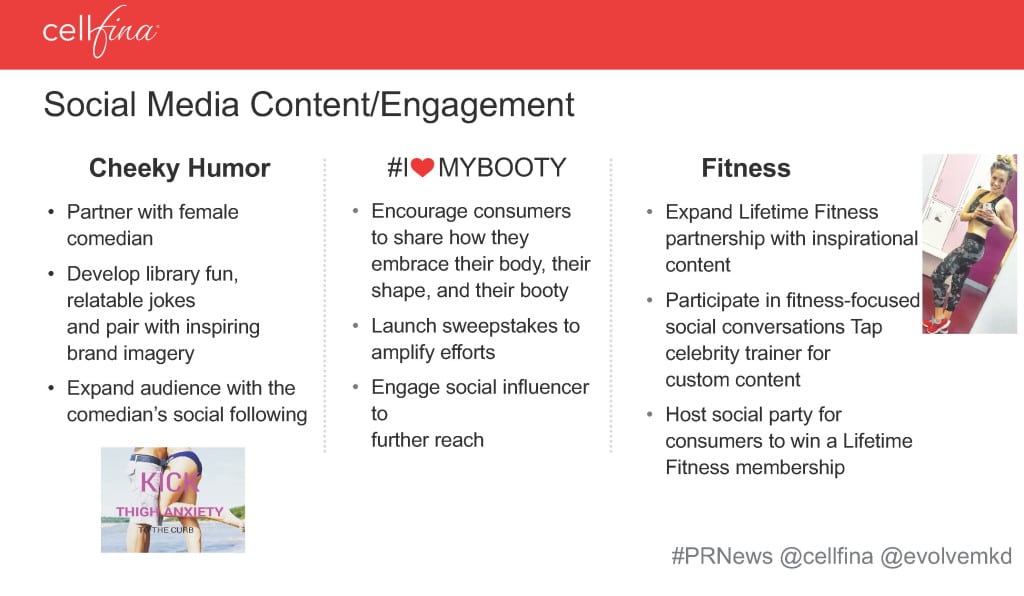 Execution
The media outreach calendar for Cellfina gave each month its own focus, placing emphasis on seasonal events and targeting relevant media and regional markets for maximum effect.
Executing an editorial calendar was essential for delivering a surround-sound approach to brand awareness through key coverage in multiple channels with various audiences.
Spring months had a focus on the get-ready-for-summer theme with a Swim Season Survival Guide aimed at fitness and exercise media. This was kicked off with an event at Miami's Swim Week.
Summer months were all about visiting your local beach with confidence and looking good for holiday parties, which targeted regional markets with popular summer travel destinations. The summer outreach got started at a large consumer event in the Hamptons.
Fall months were devoted to saying goodbye to swimsuit season, but kept the conversation alive by embracing the themes Love your butt again!and It's okay to wear white after Labor Day.
Winter reminded women not to be fooled by cellulite and offered tips for looking good for holiday parties.
On the social media front, the plan was to coordinate the editorial calendar with traditional print media, again reflecting seasonal themes. Social media content also leveraged popular trending themes and hashtags to help drive consumer discovery. Brand-related themes such as testimonials, before-and-after comparisons and FAQs anchored the content, which saw strong sharing from KOLs and practices. Lifestyle subjects, including ownable content designed to inspire women and invite conversations around the brand, rounded out the content.
Cellfina's social presence focused on Facebook, Instagram, Twitter and Pinterest. Each channel's messaging and ad support was designed to connect with consumers, influencers, media, KOLs/practices and trendsetters. Facebook was established as the lead social platform due to its hyper-focused targeting and its ability to drive consumer awareness, lead generation and traffic to the website. Once a consumer arrived at the site, she could learn more or find a doctor.
With social media, navigating the FDA regulations was a team effort. The agency, brand team and legal and regulatory units at Merz North America worked together to ensure that from content to ads, each piece of content was approved with the appropriate indication and necessary safety language, but still adhered to the brand voice and visual style. The teams had to be in lockstep to ensure that platforms were set up correctly and each stakeholder's needs were met.
The Results
The campaign helped make Cellfina part of the cultural conversation on cellulite. It received positive feature coverage on numerous syndicated shows and news programs in key broadcast markets. Print coverage included fashion, health and beauty magazines such as Elle, Allure, New You, Women's Health and Shape, and trade publications geared toward physicians. Online coverage included health and beauty sites and the brand's owned social media channels with a combined fan/follower base of 175K followers. The campaign has earned more than 1.1 billion media impressions to date.
Cellfina earned awards and accolades, including a 2015 Best in Beauty Breakthrough Winner at Allure's Best in Beauty awards. In 2016, Cellfina received the Good HousekeepingSeal of Approval as a top-tested beauty brand. Cellfina was recognized as a beauty game changer for being the best-in-class nonsurgical cellulite fighter in the NewBeauty 2017 Beauty Choice awards.
Cellfina now enjoys greater awareness among physicians. Starting with only 13 centers of excellence, Cellfina now is available nationwide at nearly 300 physician practices.
Lessons Learned
Be Truthful: Cellfina is intended to eliminate cellulite dimples—not the wavy cottage cheese-textured cellulite some women have. We made it a priority to deliver this messaging in all communication throughout the campaign to ensure high patient satisfaction from the beginning of the campaign.
The team worked with doctors to provide visuals and explanations that clearly and concisely explained the product, what it would and would not do.
An example of visuals included a doctor on the Rachael Ray show using a sandwich to demonstrate the procedure. She used thread knotted at the top and bottom of a sandwich to imitate the dimpling effect fat bands have on the skin. She then cut the knots to show how the dimpled sandwich lifted back up to a smooth surface. We believe having this type of educational coverage and content was a key factor in the campaign's success.
Early Bird: Working with legal and regulatory early and often on social media content and campaigns helped ensure that everyone knew what was happening and felt educated on the platforms, methods and content that Evolve was utilizing to promote Cellfina online.
This enabled our content and campaigns to stay true to what we had proposed in terms of tone and tenor, but enabled legal and regulatory to feel comfortable that we were remaining compliant.
Control the Frequency: It is understandable that physicians who were getting positive results from Cellfina with patients wanted to let the media know about the procedure as quickly and loudly as possible. Our team realized, though, that it was important to avoid over-saturating the media. Through our strong relationships with these KOLs, we partnered with them to execute a strategic, steady drumbeat of media communication that was on-message and timely. This was imperative to long-term media success.
NOTE: This content appeared originally in PR News June 12, 2017. For subscription information, please visit: https://www.prnewsonline.com/about/info
By Rob Catlin, Senior Director, Marketing, Merz N. America, and Megan Driscoll, CEO, EvolveMKD. 
CONTACT: mdriscoll@evolvemkd.com