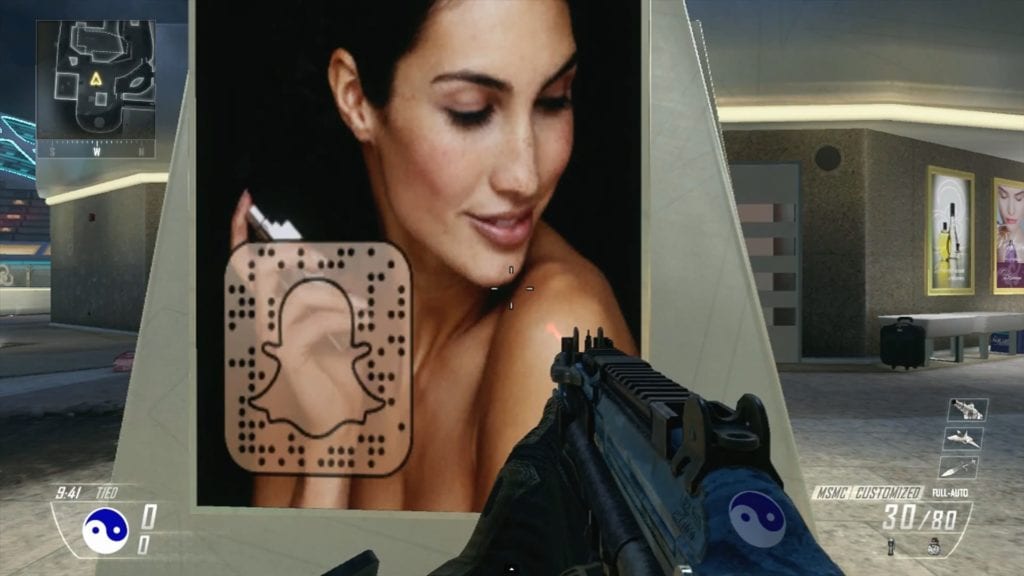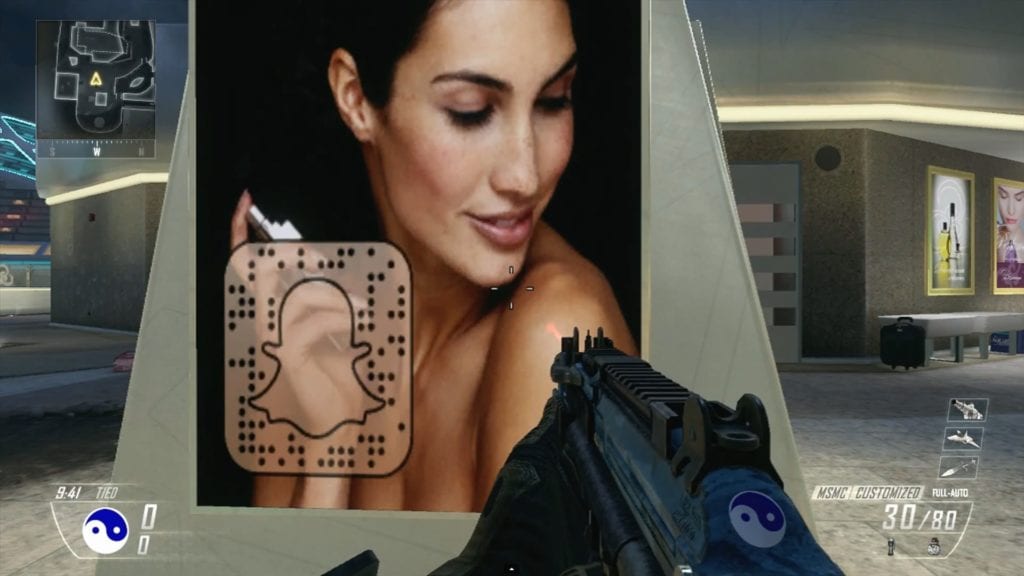 To reveal the latest Call of Duty game—Black Ops 3—Activision teamed up with Edelman to target the millions of gamers still playing Black Ops 2 in a way that was both native to the game and attention grabbing.
Snapchat's explosive growth with the game's core demographic of 18-34 year-olds and its ephemeral nature made it an ideal platform for clandestine tease content that would align with the secretive nature of the Black Ops series.
By working with Treyarch, the developer behind the Call of Duty: Black Ops games, the partners decided to hack into the game itself. Together they created and executed the first ever in-game integration with Snapchat by creating the appearance of a "hack" in the Black Ops 2 online multiplayer maps.
Disguised as part of a standard game update, Snapchat Snapcodes were embedded into various locations on the game's multiplayer maps. They were not accompanied by an announcement from the company or publicized in anyway. Players who found the Snapcodes and scanned them were taken directly to the Call of Duty Snapchat account where the first cryptic clues about Black Ops 3 were waiting to be decoded.
Within hours of the Snapcodes being deployed in the game, players from around the globe began discovering them and flocked to Call of Duty's Snapchat account. In no time at all the entire Call of Duty community was buzzing about the discovery and what it could mean.
Practically overnight, Call of Duty's Snapchat account became one of the most active on the platform, where it acquired hundreds of thousands of new fans through the exciting tease content. The series culminated in the official reveal of Black Ops 3 on Snapchat, driving mass discussion, including multiple global Twitter trends.
Hundreds of thousands of fans followed Call of Duty's Snapchat account, generating 6 million engagements with the tease content. An additional 50 million views took place on YouTube, driven by Call of Duty fans voraciously picking apart every frame of the teaser content. In just five days, the partners generated more than 1.3 billion earned impressions and 700,000 social mentions, making it the biggest Call of Duty game announcement ever. The partners also received a 2015 PR News Digital PR Award for their innovation and success in digital marketing.
Follow Mark: @MarkRenfree