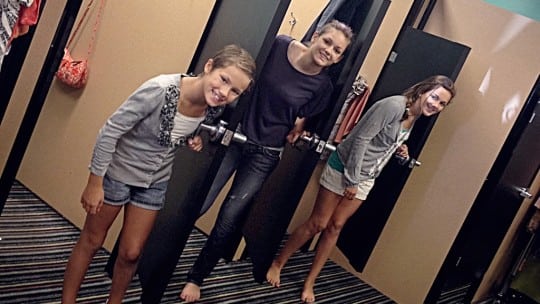 The Issue: Breaking Through
Getting your message noticed is a constant problem for communicators. In our case it was more specific. With countless PSAs hitting the airwaves and internet each day, it can be hard to get yours heard—especially when trying to gain the attention of busy journalists to amplify your reach. When it comes to pitching your cause, we found a little creativity can go a long way to break through the noise.
The Solutions: Creative Mailer, Personalized Bookmarks
With this in mind, Tobacco Free New York State took what it believed was a unique approach to launching a regional and statewide educational campaign on World No Tobacco Day, May 31, 2016. The goal of the Seen Enough Tobacco campaign is to educate the public and motivate community members to protect children from tobacco marketing and promotions in convenience stores and other retail locations.
In addition to the advertising portion of the campaign, the team developed a creative way to share facts with the media that would grab its attention quickly, while tying into the overall campaign concept. Tobacco Free New York State figured that it needed a new way to communicate its messages and statistics. The reason: Journalists are inundated with traditional press releases and media alerts.
The Tactics
The end result was the development of a children's storybook, Jack and Jill (and Tobacco), with a very un-storybook-like message. The idea for the book originated from brainstorming sessions. The book was written and illustrated at the agency.  It was then hand-illustrated and sent for production within a few weeks of concept approval and campaign launch deadline. The timeframe was tight, but the book was completed by its due date. Hard work and strong vendor relationships ensured that.
The 11-page book relates the story of how tobacco is marketed in places where kids can see it. This sets up the theme of tobacco marketing being in places it doesn't belong. The theme was repeated often in the effort (more on that below).
In addition, the book relates proof that tobacco marketing influences children. It features statistics that support why it's time the issue gets addressed. Tobacco does not belong in a children's storybook, and tobacco advertising does not belong in stores where kids can see it. To heighten the sense that there's something amiss, the book's alarming statistics are interspersed with playful illustrations and rhyming verses.
More than 200 storybooks were mailed to key media around the state. To be more strategic, the mailers went primarily to mothers in the media who, it was thought, might be more receptive to the content. Each book came with a handwritten note on a bookmark inviting media members to set up interviews with local tobacco-control organizations. The team identified media moms based on existing media relationships, as well as research of news team biographies and social media accounts.
Our idea was to have the storybook engage media, who typically are flooded with email and phone pitches, by providing a physical item and a personal note. We reasoned that holding the book in their hands would help bring the story to life for those media reading it. In addition, it would be harder to overlook than if it were an email sitting in an inbox.
The bookmarks were not only personalized to each media contact, but handwritten. We thought this was another way to get media to notice our message.
A press release with detailed information was included within the mailing, and media members were directed to a landing page (SeenEnoughTobacco.org/Media) where they could find resources including photos, videos, an infographic and a digital version of the storybook.
In addition to the statistics woven into the storybook, the press release and other campaign assets featured more data (see chart on page 5) to strengthen credibility and paint a comprehensive picture of tobacco marketing in stores where children could see it.
The media pitch being delivered in an unexpected format tied into the overall campaign creative concept of combining cigarettes with common children's items, such as a crayon box and a birthday cake. On social media (#SeenEnoughTobacco), videos, digital advertising and on SeenEnoughTobacco.org, visuals show cigarettes in place of crayons in a crayon box and lit in place of candles atop a birthday cake. A child's hand reaching for a cigarette instead of a crayon and a child blowing out cigarette candles further create the out-of-place scenarios.
Typically you wouldn't find cigarettes within a children's crayon box or sitting atop a birthday cake in place of candles. So why do you find tobacco promotions in stores where children can see them? Creating this thought process in parents, followed by their outrage, is the intent of the Seen Enough Tobacco campaign.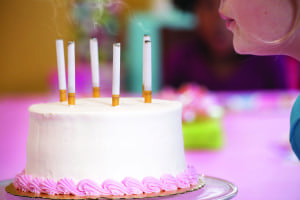 The Results
Within a week of the May 31 campaign launch, nearly 70 media outlets across the state covered the campaign, highlighting the efforts of more than 20 organizations that are collaborating to draw attention to how billions of dollars spent on tobacco marketing in stores can influence children. Coverage has continued throughout the months following campaign launch. In the first 30 days, the campaign drew nearly 540,000 video views, more than 215,000 landing page visits, a 20%+ interaction rate on digital messages, a 429% increase in Facebook likes and a vast increase in Facebook reach.
Website demographics are aligned with the campaign's target: mothers of young children. More than 80% of visitors to SeenEnoughTobacco.org are female, aged 25-44.
And, the story and the storybook live. The storybook is being repurposed for parent groups, community members and policymakers to educate them about the issue.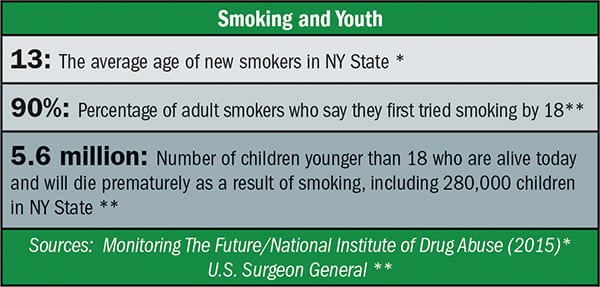 Lessons Learned: Nurture Creativity
There are many worthy causes that send PR pitches. Without creativity, some may go unheard. Tips to foster creativity:
Listen: Before jumping into brainstorming and developing solutions, take the time to listen. Listen to your team, of course, but also to everyone involved. What has been done before that has or has not worked? What goals is the brand trying to accomplish? When you actively listen, you are more likely to develop ideas that can grow and flourish.
Be Open to All Ideas: You will come up with more bad ideas than good ones. Often, a winning idea comes as a result of allowing the team to build from and improve upon a combination of ideas or the blending of two concepts that would not typically be seen as related. If you rule out the mediocre ideas before allowing this creative process to take place, you're doing your team, and the brand you represent, a disservice.
Celebrate and Build on Your Victories: While it's the nature of the industry to quickly move to the next phase or project, if you take time to show appreciation, you can build morale, inspire the team and encourage creativity for future initiatives.
CONTACT: @tobaccofreewny aaron@pinckneyhugo.com
[Note: This content appeared originally in PR News Pro, August, 22, 2016. For subscription information, please visit: https://www.prnewsonline.com/about/info ]
Save