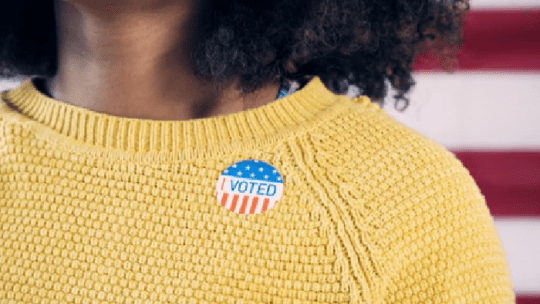 As the U.S. midterm elections approach, political discussions seem inevitable. Of course, there was a time when you didn't mention religion or politics in polite company. Better to stick to neutral topics, like the weather or TV. And this was years before politics divided the U.S. to the degree it has today.
Similarly, for years it was standard PR practice for companies and organizations to steer clear of speaking publicly about divisive political and social issues. Of course, that's changed somewhat during the past few years.
Now it's accepted that a majority of consumers want companies to have values and speak out on issues. A new Public Affairs Council survey of 2,210 people shows a majority of Americans want large companies solving problems, not Washington, D.C.
Indeed, politicians in D.C. are seen as a major issue, the survey says. 71% of people surveyed say politicians are too focused on getting reelected, using their power for financial benefit (66%) and being partisan (66%).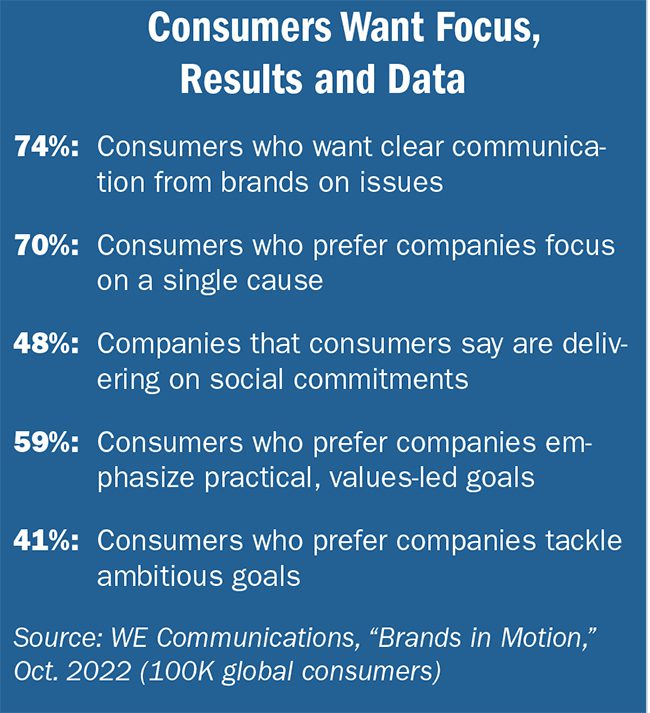 The top issues people want companies solving are:
environment/sustainability (68% support corporate involvement)
eliminating hunger (68%)
ending discrimination by gender (67%)
ending discrimination by race (66%) and
ending discrimination by sexual orientation (62%)
A June study, from Horizon Media, tracks with the above findings, particularly on the desire of the public that companies work on climate change solutions.
Going Public
Accordingly, some companies broadcast their views on politics, social issues and causes.
For example, a few companies link social causes with their reason for existing. Patagonia seems the paradigmatic example here. There's also socks and shirts maker Bombas. Jen Risi left her position as global chief communication officer at Ogilvy and founded her shop, The Sway Effect, in part because she believed diversity was lagging.
Yet, like many things in PR, companies responding to social issues or adopting political stances is more complicated than it initially appears. While you'll see that this article asks more questions than it answers, at least some things seem clear.
First, taking a stance should not be approached haphazardly. Instead, thought, planning and research are necessary.
And similar to dealing with a PR crisis, there's no formula for adopting a social or political position. Each case is unique; there's no one-size-fits-all approach.
Plenty of Nuance
Moreover, the public's stance on companies taking stances is nuanced.
For example, a study released at our deadline and other data referenced in this article indicate the public is somewhat skeptical about businesses taking stands. A global survey from WE Communications and YouGov of 100K consumers and B2B decision-makers confirms general support for companies having a purpose. That's expected.
On the other hand, the survey also finds people are anxious. They want tangible results and data that proves how companies' efforts have helped (see chart).
Similarly, consumers seem tired of seeing myriad pledges from companies and organizations. Instead they prefer companies narrow their focus and take positions on attainable goals (59%) instead of ambitious ones (41%).
In addition, 70% want companies focused on a single cause for several years instead of a different one every year.
The takeaways for communicators seem clear. Consumers want fewer social and political commitments. However, they also desire proof that companies are achieving tangible results on issues. Communicating results through data and storytelling is key.
The Reluctant Actor
Yet in some instances, the public and employees push political/social issues on a reluctant company. The results aren't always successful. A prime example is The Walt Disney Company and its battle in Florida earlier this year.
Colloquially known as the 'don't say gay' law, the Parental Rights in Education Act, introduced in Jan., made mentioning or teaching about the LGBTQ+ community and certain sexual and gender issues illegal in Sunshine State public schools. The ban begins in kindergarten and extends through the third grade.
The FL House approved the measure in Feb. In early March, after Ron DeSantis, the FL governor, endorsed the bill, Florida's Senate passed it.
After remaining silent–for years the traditional PR approach on divisive political issues–Disney, one of the state's largest employers, was pulled into the fray. Just prior to Senate passage, Disney got involved.
Happiest Place on Earth?
CEO Bob Chapek spoke up after staff displeasure mounted. External pressure rose too, from Disney scion Abigail Disney and several advocacy groups.
As the Senate was debating the bill, Chapek issued a statement lauding inclusivity, though casting doubt on Disney's ability to effect change. Critics accused Chapek of fence-sitting.
"As we have seen time and again, corporate statements do very little to change outcomes or minds. Instead, they are often weaponized by one side or the other to further divide and inflame. Simply put, they can be counterproductive and undermine more effective ways to achieve change."
Nearly three weeks later, Chapek moved again. Disney blasted the bill, just after DeSantis signed it March 28. The company vowed to help overturn it.
Disney's reluctant' political activity cost it. In late April, DeSantis pulled tax breaks, self-governing and other perks the company had enjoyed for years in the state.
In addition, there was internal dissension. Despite Chapek's eventual about-face, some employees and customers saw it as too little, too late. As such, several employees spoke openly about the situation, upsetting Disney's normally tight-lipped culture.
Moreover, days before Chapek and the company declared their opposition, some Disney employees walked off the job, a no-no at the happiest place on Earth.
A Quick Tenure
Similarly, it appears the tumult cost Disney communication chief Geoff Morrell his job, after just three months in the saddle. We don't know whether or not Morrell's counsel was blameworthy, yet the company's top communicator exec took the fall for Disney's reputation hit.
Incidentally, after making donations to LGBTQ+ groups, Disney reportedly re-adopted its initial approach. As the Wall Street Journal wrote in late April, the company decided to "keep its mouth shut" about the political issue.
Just Say Nothing?
Perhaps the most important outcome of the Disney-DeSantis affair was its influence on other companies. The incident provides additional evidence for C-suites and PR pros who advocate against taking political stances on difficult issues. 'If Disney isn't immune from fallout on a divisive issue, nobody is safe,' the argument goes.
Moreover, Disney is far from an isolated incident. Last year, then-Senate minority leader Mitch McConnell issued a clear warning about businesses entering the political fray.
It's "stupid," he said. "It's not what [business is] designed for. And don't be intimidated by the left into taking up causes that put you right in the middle of one of America's greatest political debates."
McConnell's warning came in the wake of Delta, Coca-Cola and Major League Baseball (MLB) critiquing Georgia's then-new voting law. You might recall, MLB pulled the All-Star Game out of Atlanta that year.
The thrust of McConnell's argument resonates still in some corporate boardrooms. Taking a position on a divisive political issue risks alienating some customers. "Republicans drink Coca-Cola, too…and we fly, and we like baseball…If I were running a major corporation, I'd stay out of politics," McConnell said as he questioned Delta, Coke and MLB.
It's more complicated than that, of course. There are several counter-arguments.
Data
First, savvy companies that take bold stances calculate how much blowback they'll get from customers.
For example, Nike knew some customers would depart in the wake of its support of Colin Kaepernick kneeling during the national anthem, beginning in 2016. It was a calculated risk, though, based on data and the company's knowledge of its customer base. Nike calculated, correctly, more customers would support its view than protest.
There's also data showing much of the opposition in the Nike-Kaepernick situation was bogus and bot-based. In the end, Nike's sales rose.
Politics vs. Values
A second argument against McConnell's black-and-white view holds that companies "must distinguish between values and politics." Values, Danny Franklin, a partner at BPI, writes, "isn't taking the right side in political debates. Instead, values is acting on one's beliefs."
Franklin provides data supporting this view. In addition, his data track with the WE study mentioned above in that they show consumers value results on social and political issues.
Former president Barack Obama agrees that a company with good values need not spend too much time communicating political stances. "You shouldn't have to examine what the role of your company is in the world, and in your country and in your community. Your values should align with the things that your employees feel are important," he said last month.
For example, if you are investing in a diverse workforce and have diverse leadership, Obama said, "then you don't have to comment [on the issue] because you have confidence that what you are doing each and every day is an expression of those values."
'Stay in Your Lane'
Indeed, Obama, somewhat like McConnell, emphasized the first job of business is producing. "I don't believe that a company should simply be sort of a bulletin board or litmus test or a seminar about global issues–because you've got a mission."
The mission is producing goods and services. "…[I]f you're making widgets, you've still got to make widgets."
So, here we are some 30 days before a critical set of midterm elections and there are many questions. Should business stay away from the elections altogether or enter the fray?
In a small sample, we found a variety of themes, mostly coalescing around Franklin's values approach. As such, a slew of companies and organizations is touting voter turnout. They insist they're doing so in a non-partisan way.
Today, Dating and Politics Mix
When users visit dating app OkCupid, they're seeing information about voting, says Michael Kaye, the company's global communication head. The app works when candidates answer questions about themselves. At the moment, some questions ask about politics and voting.
Since OkCupid monitors responses, Kaye tells us they are some of the most popular questions on the app, for U.S. users at least. Questions include:
Do you enjoy discussing politics?
How important are your political beliefs to you?
Are you registered to vote?
Could you date someone who doesn't vote?
Kaye says the results show millennial and Gen Z voters disprove the adage about avoiding politics while in a conversation. "Millennials are the most likely to say that they could never date someone who doesn't vote," he adds.
Though nearly 90% of the 3 million U.S. users of the app are registered voters, OkCupid partnered with the non-partisan Vote.org. The goal, Kaye says, is improving voter turnout among young voters, "no matter how [which candidates] you vote for."
Users can obtain a wealth of information in the app, including locating their polling place, checking their registration status and requesting an absentee ballot, Kaye says.
Partisan or Non-Partisan?
In spite of OkCupid's non-partisan theme, Kaye mentions the app holds strong political positions. "We were the first app to speak out about the abortion ban," he says. Kaye also notes the company's prompt support of #BlackLivesMatter with words and donations.
We ask Kaye whether or not these positions might lead critics to question the company's get-out-the-vote effort as politically motivated. He insists the voter push is not a political effort.
Yet he adds, "We are never going to shy away from" issues. "We are really proud to be supporting the issues that not only our data [shows our users] care about, but our employees are very passionate about."
Similarly, the NFL and the NBA are making large, non-partisan voter turnout pushes. In fact, the NBA is taking the unprecedented step of not playing on Election Day (Nov. 8). Some of its arenas may serve as polling places or staging areas for poll workers and related activities.
Again, while the NBA's effort is officially non-partisan, its interest in voting stems, in part, from the murder of George Floyd, in May 2020 and voter suppression activities in certain states. The NBA's voter-turnout activities track with the work of NBA stars, such as LeBron James, on voter suppression.
Voting is Not a Spectator Sport
The NFL is in its 3rd season of its NFL Votes initiative. Similar to the NBA, voting will occur in some NFL stadiums, though all 30 are available for election activities, the league says.
In addition, it's created a voter information site and a PSA. A total of 17 teams will have on-field NFL Votes activations during games.
In response to our question about critics claiming the NFL's push could help or hurt certain political issues, the league said in part, "Democracy is not a spectator sport. That's why NFL Votes, a league-wide, non-partisan initiative to promote civic engagement…and encourages fans" to make sure they're registered.
Yet, for some, voting is political. At our deadline, the highly politicized Supreme Court was considering a case involving the Voting Rights Act. Passed in 1965, the Act's goal is protecting against discrimination of minority voters.
So, while encouraging voting seems a non-partisan activity, communicators should prepare for charges that it's political.
Despite that, some PR pros see another option for companies: encourage voting among your employees. Says Mike Morey, a partner at SKDK, "companies have a lot to gain from encouraging an active and engaged workforce." He adds that employees "are looking for purpose and want to feel as though they are contributing to something far greater than their own personal or professional needs."
As such, "encouraging political participation amongst employees is good for business. It helps builds strong organizational culture and showcases the kind of values today's workforce is demanding from their employers."