Crisis Insider
April 6th, 2021 by
Seth Arenstein
Each month, we look at new terms picking up steam in the crisis landscape with a definition.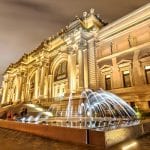 April 6th, 2021 by
Brett Bruen
COVID-19 and a rapid succession of political, economic and racial crises presented an unprecedented challenge to an unrivaled American cultural institution, the Met.  One of its most valuable assets was particularly under threat: its people.
April 5th, 2021 by
Seth Arenstein
It's a loaded question to ask when a PR crisis ends. With some crises, reminders last indefinitely. In other cases, the actual crisis lasts for months. We begin a series that updates crises mentioned in previous editions of Crisis Insider and offers additional insights.