The 2022 Agency Elite Top 100 is finally here. And, to give you a taste of the most innovative PR and communications firms in the business, we're bringing you case studies from the best and brightest. First up is The Brand Agency's L.A. campaign for Amazon Fire TV. Check it out below.
---
SPONSORED CONTENT
---
Campaign: Amazon Fire TV's Black Friday Shopping Activation In Los Angeles
Client: Amazon Fire TV
Agency: The Brand Agency
The Brand Agency was tasked with building buzz around the Amazon Fire TV Cube, whose release was timed for Black Friday and Cyber Monday. The holiday season is the busiest, most-cluttered time of the year, when hundreds of top brands fight for a piece of consumer mindshare. Breaking through the clutter to effectively reach consumers is difficult and must be executed strategically.
Influencer Programming
To differentiate ourselves from every other tech brand and product during the holiday season, The Brand Agency utilized influencers to break through the noise and effectively reach our target audience on behalf of Amazon Fire TV. Ultimately, we executed 360-degree consumer-facing public relations, marketing, and programming strategy that both spoke to and touched consumers with influencer and celebrity traction. Leading up to Black Friday, The Brand Agency executed a week of curated influencer programming at the newly renovated Westfield Century City mall in Los Angeles, and tied it to a pop-up shopping experience from Amazon Fire TV.
The Brand Agency handled A-Z programming: vetting talent, negotiating contracts, coordinating celebrity seminars, inviting press, and pitching media. Our media campaign invited consumers to partake in influencer seminars where talent showed the audience how they use the Amazon Fire TV Cube to prepare for the holidays.
This strategy not only drew consumer foot traffic to the pop-up, but also served as a way to capture coverage assets that would appeal to editors so they could, in turn, detail the pop-up and product in the press. Supermodel Charlotte McKinney hosted a seminar on healthy holiday cooking with the help of Amazon Fire TV, while Hailey Bieber's stylist Maeve Reilly spoke about how to use the device to help with holiday party-dressing tips.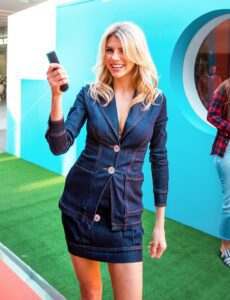 The Brand Agency was responsible for ideating the program, scripting the seminars, negotiating contracts, securing all influencers and talent, working with the on-site photo team to capture media-genic photos of the talent using the Amazon Fire TV Cube during their sessions and pitching assets following the initiative to further drive conversations around Amazon Fire TV during the holiday season.
We also wanted to draw a wide swath of consumers in the Los Angeles area to the pop-up. In doing so, we implemented a gifting program where influencers native to Los Angeles could come to the Amazon Fire TV pop-up and receive a free device in exchange for activation exposure and a call to action on their social channels for their followers to attend.
Additional campaign initiatives included traditional media placements, radio station giveaways, unpaid influencer procurement and posting and more. As a result, The Brand Agency secured 1,210,911,960 impressions on behalf of the activation. Highlights included media placements in outlets such as People Magazine, Entertainment Tonight, Us Weekly, E! News, and more. Influencer highlights included names like Delilah Belle, Charlotte McKinney and Kristen Crawley, and Maeve Reilly.
Additionally, The Brand Agency was tasked with securing consumer press around the Amazon Fire TV Cube Black Friday and Cyber Monday deal. Through our media relationships and strategic pitching, we garnered press in a range of verticals from business and tech to consumer lifestyle.
Priscila Martinez is the CEO of The Brand Agency. She can be reached at [email protected] or 747-203-1312.