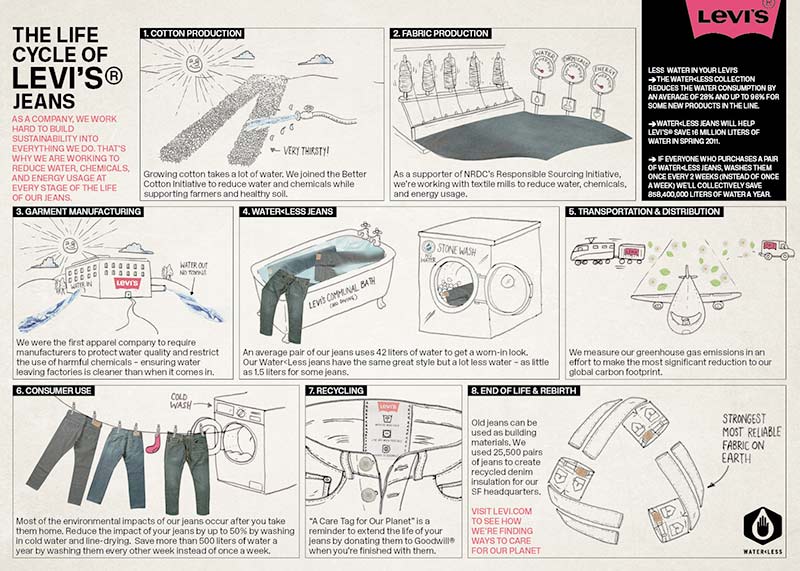 To better engage and educate consumers about the Care for Our Planet campaign, Levi Strauss and Edelman created a jeans "life cycle" graphic that suggested air drying as an alternative to the dryer. Image courtesy of Edelman
Company: Levi Strauss & Co.
Agency: Edelman
Timeframe: Jan. - Nov. 2010
Fashion trends come in cycles. Ever since Levi Strauss created blue jeans in 1873, the garment has been the base of many fashion trends, from revered 1970s bell-bottoms to the tight, acid-washed jeans of the '80s. For the last 20 years, however, one trend in denim hasn't changed: Levi Strauss & Co.'s commitment to corporate social responsibility.
For its most recent CSR efforts, extensive research found that, by far, the biggest environmental impact of Levi's signature products was in the cotton grown to make the jeans, and in the washing and drying of jeans once they are sold. Armed with the knowledge that Levi's consumers were key players in reducing the company's environmental impact, a four-person Levi's PR team, along with five Edelman reps, worked together to create the Care for Our Planet campaign. The PR objectives for the Levi's brand were simple: Engage a range of influencers from the worlds of design, sustainability and everything in between, and generate an online conversation among all stakeholders, with a call to action to reduce their environmental impact, one pair of jeans at a time. They also hoped to secure media coverage beyond the fashion press that traditionally covers Levi Strauss.
IMPACT STUDY
In 2008, Levi's performed a complete life cycle assessment of the environmental impact of two of its iconic products—Levi's 501 jeans and Dockers Original Khakis. The study examined all environmental impacts, including climate, energy, water, materials, land use and biodiversity.
The research demonstrated that throughout its life cycle, a pair of jeans consumes as much energy through washing and drying as powering a personal computer for 556 hours, and that the average person in the U.S. throws away 68 pounds of clothing and textiles a year.
LAYERED STRATEGY
The Levi's and Edelman teams structured the Care for Our Planet campaign as a layered sustainability PR strategy throughout 2010 that included different aspects of Levi's' consumer care and product innovation stories. The key was to create deeper engagement with consumers by educating them about how they can join Levi's to make a bigger difference. A three-tiered plan featured the following action points:
• Build a foundation for sustainability through the "Care Tag for Our Planet" aspect of the larger Care for Our Planet campaign. Use the company's unique assets as a retailer—its products, retail stores, e-commerce platform and employees—to reach consumers and start a dialogue about how their laundry habits can have a big impact on the environment.
• Spark consumer engagement around important sustainability issues through the global Care to Air design contest, challenging green innovators to create new ways to dry their jeans.
• Introduce the new Levi's Water-less jeans as a greener approach to denim at a major industry event, earning coverage across the entire spectrum of environmental media.
NEW TAGLINE
By law, Levi's is required to have care tags on its products, but the tag itself never touched on what do with the product when one is ready to dispose of it. To position the company as a dedicated advocate for sustainable practices with its products, Levi's formed a partnership with Goodwill to launch the Care Tag for Our Planet initiative, which aimed to put billions of pounds of unwanted clothing to good use instead of into landfills.
The tags empowered hundreds of millions of consumers around the world to wash their jeans less often and in cold water, then line dry and donate their clothes to Goodwill.
"When we saw the statistics about how many tons of the product end up in landfills each year, we knew we needed to encourage consumers to give their products second, third and fourth lives," says Jill Nash, senior VP of corporate affairs and chief communications officer for Levi's.
While the tags wouldn't be physically included in Levi's products until January 2011, Levi's and Edelman started to build buzz online during the weeks leading up to the launch. In October 2010, the Levi's Facebook community and the care tag-specific microsite within Levis.com were used as drivers to encourage consumers to make an image of the new care tag their profile picture on Facebook and Twitter and use the hashtag #CareTagYourIt on their posts.
LAYING IT ON THE LINE
According to Levi's research, line drying is one of the best ways to reduce the climate change impact of clothes. However, 92% of U.S. single family households have a dryer, reducing line drying to an anachronistic chore. On June 1, 2010, Levi's launched its Care to Air Design Challenge, a crowdsourcing contest seeking out innovative and sustainable ways to air dry clothes for the chance to win up to $10,000 in prizes.
"We know that simple changes in laundry habits can have a big effect on the climate change impact of clothes—and none is more important than line drying," says Michael Kobori, VP for social and environmental sustainability, Levi Strauss & Co.
On Aug. 16, 2010, in San Francisco, Levi's had each of the six contest finalists present their clothes drying design solutions via video presentation and participate in a Q&A session with a panel of eco-innovator judges. The entries were then posted online, with the announced of the winner distributed in a press release. The winning design, "Nothing Is What It Seems," used a wall-mounted painting frame that unhinged with enough bars to dry a full load of laundry.
LESS IS MORE
To complete the life cycle, Levi's launched its The Water-Less jeans collection in November 2010. The line reduces water consumption during production by an average of 28%. At the 2010 BSR Conference in New York—a global corporate responsibility event—everyone from event participants, mainstream fashion designers and manufacturing executives to sustainability experts were invited to visit the Levi's Workshop in SoHo for demonstrations of the Water-Less jeans process.
Debra Jack, EVP of corporate, crisis/issues and corporate social responsibility for Edelman, says this tactic—gathering respected experts during an event to champion Levi's as a CSR role model—is a perfect example of "influencing the influencers."
Campaign results were measured in a number of ways: quality and quantity of media coverage, influencer engagement, participation/attendance at invitation-only events, direct-to-consumer engagement and more. Those results include:
• Over 300 media stories and 500 million media impressions to date, including placements in The New York Times, USA Today, Treehugger, Cool Hunting, WWD, ClimateWire, Fast Company, LA Times and Advertising Age.
• The Care to Air blog post was Levi's' fourth most popular posting ever, with 3,100 page views.
• As part of Levi's' annual Community Day activities, 16,000 Care Tag pledges—a commitment to care for the planet and save money by washing Levi's jeans in cold water, line drying, and donating them to Goodwill when no longer need—were collected from consumers in stores and online.
• Nearly 140 designs from around the world were submitted in the Care to Air Design Challenge.
Kelley Benander, senior director of global media relations for Levi's, says using a life cycle approach was at the root of Care for Our Planet's success. "By using the core of science as a starting point for our conversation and our message, we were able to demonstrate that this wasn't just a marketing ploy, but a way to offer solutions and be authentic with consumers," she says.
The Care for Our Planet campaign is still in full cycle as a major component in Levi's spring 2011 product lines, which contain 1.5 million pairs of jeans manufactured with the Water-Less method.
CONTACT:
Debra Jack, debra.jack@edelman.com; Kelley Benander, kbenander@levi.com; Jill Nash, jnash@levi.com.