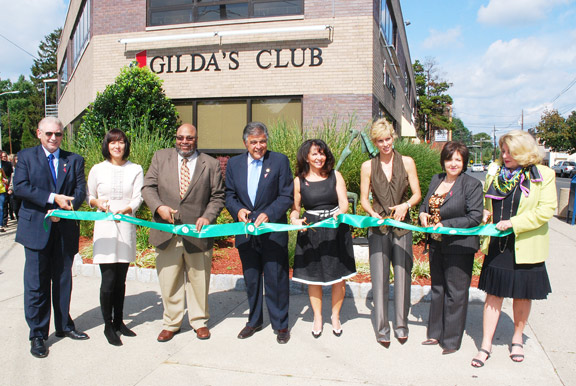 To raise the profile of Gilda's Club of Northern New Jersey, The Marcus Group keyed on events such as the christening of the Club's renovated headquarters. Ribbon-cutters include Gilda's Club board president Ruth Dugan (fourth from right) and Deirdre Imus (third from right), a Club board member and wife of radio personality Don Imus. Photo courtesy The Marcus Group
Organization: Gilda's Club of Northern New Jersey
Agency: The Marcus Group Inc.
Timeframe: Feb. 2009 - Present
In New Jersey alone, 1,330 new cases of cancer are diagnosed daily. A daunting statistic to anyone, this figure was especially distressing to Gilda's Club of Northern New Jersey, a nonprofit organization dedicated to providing free emotional and social support to local residents living with cancer. Armed with good intentions and eager to offer help those who needed it, Gilda's Club was missing one thing—money.
On the broadest scale, Gilda's Club NNJ aims to improve the quality of life for those living with cancer. The organization, created in memory of the late comedy performer Gilda Radner, who died in 1989 from ovarian cancer, was founded in April 2000 to provide social and emotional support to those affected by cancer through support groups, educational programs and social activities.
Unfortunately, these programs were in danger of being shut down due to Gilda's Club's dependence on a shrinking pool of private donations and grants. Eager to continue its work assisting the diagnosed and their families, in 2009 Gilda's Club NNJ turned to The Marcus Group Inc. (TMG) of Little Falls, N.J.
NEW LEADER
The agency began its pro bono work by searching for a Gilda's Club NNJ leader with the experience and visibility to get the fading brand back on track. They found that leader in Ruth Dugan, who has a few nonprofit turnarounds under her belt—including the financial stabilization of New Jersey's Bayonne Medical Center in 2008.
As with most nonprofits, fundraising was the most pressing need. And the conceptual hook for a new round of fundraising would be the greening and reconstruction of the Gilda Club's clubhouse in Hackensack.
"The PR comes first—it just has to," says Dugan, board president, Gilda's Club NNJ. "[The PR agency has] to be aware of the organization, know what to do, know what the mission is. They publicized what we do, made us a known community and showed us how to maximize our events."
EVENT-DRIVEN
Improving fundraising would require "multiple moving parts," according to Janel Patti, executive VP and creative director of TMG. To start, the groups worked together to plan events that would bring Gilda's Club NNJ into the public eye. The focus shifted to planning a larger event so that more substantial support could be provided in a short time.
"Events really create awareness in the community, and make an organization more exciting and attractive," says Patti. "A lot of nonprofits rely on donations, which is great, but in this type of scenario, they needed a larger event that would draw a larger amount of money that would get them back on their feet."
The agency's previous relationship with New Jersey-based comedian Freddie Roman led to the fundraiser taking the form of a comedy show, titled "Ladies of Laughter."
Roman was able to acquire a venue in Hackensack for the November 2009 event at no cost, as well as the talent for the show; the event included donated performances by Lisa Lampanelli, Sunda Croonquist and Cory Kahaney. Roman would also emcee the event.
To publicize "Ladies of Laughter" and the reconstruction of the clubhouse, TMG pitched personal stories from cancer patients to print and broadcast media. Among the tactics:
• Positioning Ruth Dugan to speak via news stories and op-eds on issues related to cancer and nonprofit organizations.
• Establishing and maintaining regular e-mail communications to share press clips and upcoming program/event information.
• Establishing an Oct. 7 "Face Cancer Together Day," to be recognized annually.
• Planning events that will appeal to a younger demographic.
• A Bachelor Auction received local newspaper and online coverage, as well as a feature story for prime-time evening broadcast on WWOR-TV.
• Emphasize that the clubhouse would be rebuilt with donated materials and labor, and without chemicals.
GOING DIGITAL
With a goal to appeal to a younger audience, the Marcus team created Gilda's Club's first Facebook and Twitter pages. "We showed them ways to share news with followers," says Kaitlyn Sweeney, senior account executive at TMG. Eschewing rote Facebook posts, the emphasis was on two-way conversation while promoting programs and events, says Sweeney.
Twitter content took a similar approach. In addition, The Marcus Group's design department created a special background for Twitter that mirrored Gilda's Club's redesigned Web site (for more, see the sidebar on page 4).
Equally important was getting Gilda's Club staff familiar with social media, and making Facebook and Twitter part of their daily routine, adds Sweeney.
LAUGHTER BEST NONPROFIT MEDICINE
The "Ladies of Laughter" event itself proved to be successful:
• It was covered in print and broadcast, receiving attention in local newspapers like The Record, a mentioning in the New York Post and a shout-out on CBS' Entertainment Tonight.
• The event was the most successful in the Gilda's Club's history, raising approximately $140,000.
In addition, the goal of reframing Gilda's Club NNJ as a more relatable and popular nonprofit organization was accomplished. Among the results:
• The Bachelor Auction raised $10,000.
• The mailing list of supporters expanded to over 2,000 northern New Jersey residents.
• More than $375,000 was raised overall; much of the restoration of the clubhouse was funded by the U.S. Department of Health and Human Services, which contributed around $500,000.
"Gilda's Club NNJ is an exceptional organization that fell on difficult times," Patti says. "Our staff firmly believes in its mission. We were happy to help them gain local, regional and national media coverage, in addition to assisting with the their ongoing marketing activities."
BACK TO WORK
Most importantly, the heightened recognition of Gilda's Club NNJ has allowed the organization to live up to its mission to provide free psychosocial and emotional support to those affected by cancer. The financial stability achieved during the campaign has not only ensured this support, but has given Gilda's Club NNJ the freedom to focus on further goals, such as "Gilda's Club Cancer Support Squad," a mobile outreach program that is being developed in 2011.
And another comedy event is in the works. The Marcus Group and Gilda's Club are deep into planning and promoting "Laugh Out Loud," a benefit slated for June 2011 starring comedienne Joan Rivers. While cancer support is no laughing matter, there is nothing like some raucous humor to help celebrate the resurrection of a much-needed organization. PRN
[Editor's Note: This case study appears in PR News' Top 100 Case Studies in PR, Vol. 5. This guidebook can be ordered at https://www.prnewsonline.com/store/49.html. ]
CONTACT:
Janel Patti, janel.patti@marcusgroup.com; Kaitlyn Sweeney, kaitlyn.sweeney@marcusgroup.com.