Company: Sara Lee
Agency: O'Malley Hansen Communications, Second City Communications
Timeframe: August 2009 - April 2010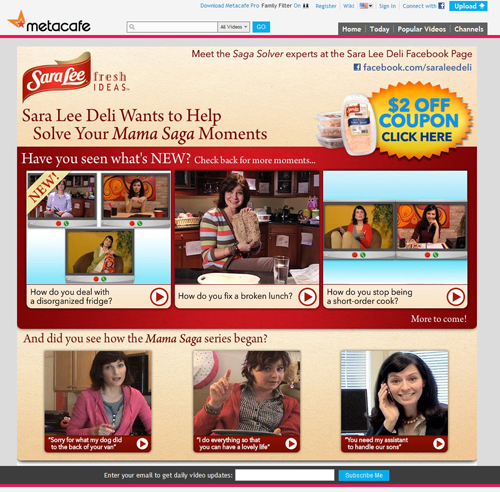 More than 2.2 million people viewed the Mama Sagas videos hosted on Metacafe, while driving thousands of people to a Facebook page.
Image courtesy of O'Malley Hansen Communications
Most consumers are familiar with Sara Lee's portfolio of desserts and breads. But baked goods are only one ingredient in Sara Lee's multi-layer brand cake. While many consumers' mouths water at the thought of its baked goods, not all of them share the same affection for its premium line of pre-sliced deli meat.
Faced with the challenge of making lunch meat fun and exciting, the public relations and marketing teams at Sara Lee worked with O'Malley Hansen Communications (OHC) to build awareness and drive sales of Sara Lee Fresh Ideas Pre-Sliced Deli Meat by using humor and engaging the target audience of moms where they live: online.
MINING MOMS
"Focus groups are definitely a key component in understanding what's important to our target consumer, moms; to find out what messages will resonate with her, and what needs she has," says Sara Matheu, director of corporate communications at Sara Lee. Ultimately, continues Matheu, it is critical to understand what moms need from Sara Lee, what gaps can be filled by its products, and how the brand can simplify their lives.
Through focus groups, Sara Lee discovered that its overall brand rated very strongly in healthiness, quality and variety, but target consumers incorrectly believed that packaged meat lagged behind deli-counter meat in freshness and quality.
But just who is this consumer? Moms age 25 to 45— with young children—who are actively online talking with other moms about issues relevant to their daily lives. As the chief grocery decision makers, these women generally seek great-tasting, nutritious meals for their family, but have little time to plan or prepare—making convenient and quality products ideal for purchasing.
O'Malley Hansen Communications and Sara Lee worked to connect with these moms in a way the brand had never done before, by taking advantage of the rapidly expanding population of moms on Facebook, and moms' interest in viral videos.
Between Sara Lee and OHC, a team of six to eight people spent eight months on a campaign with the ultimate objective of demonstrating that Sara Lee deli meat helps simplify the lives of moms with its convenience and quality.
MEATY STRATEGY
O'Malley Hansen devised a three-step strategy to secure the goodwill of these busy moms, says Todd Hansen, principal, O'Malley Hansen Communications. Those steps included:
1. Get the moms' attention by entertaining them.
2. Educate them about the value of the product.
3. Engage them via a variety of digital platforms.
By generating awareness and establishing an online presence that is genuine and mutually beneficial, OHC hoped to create a community to interact with customers and position Sara Lee Deli as a resource for moms. (To see how this was done via social media, see the sidebar on the opposite page.)
With more than 32 million moms online, 23 million of which interact and converse regularly, Sara Lee and OHC understood the importance of delivering information to moms where they work, live and play.
"When you go online, you have to create content that makes moms want to participate," says Hansen. "You can't be too brand centric, and you have to be relevant to their lives and resonate with their day-to-day experience." Thus, a comfortable online environment and a social media personality that moms could relate to was key.
With the right broadcast channels, they hoped to meet moms where they are online and engage them. The Mama Sagas campaign, which highlights the challenges of parenting through a series of satirical webcam "confessional" videos, was created to provide moms with product information, tips for easier meal preparation and coupons and recipes, all while positioning Sara Lee Deli Fresh Ideas Pre-Sliced Deli Meat as the most convenient, high-quality, fresh lunch meat option available.
Rather than reinventing the brand entirely through new imagery, the goal was to leverage the clout of the brand through a new medium. "The Sara Lee brand has a strong identity in terms of look and feel, so we wanted to take that existing brand identity and tweak it in a way that would work for each of the channels in the program," says Matheu.
THE SAGAS BEGIN
On Sep. 14, 2009, OHC launched the "Mama Sagas" video campaign designed to connect with and help moms through typical, everyday sagas. Second City Communications developed three satirical "Mama Sagas" Web videos for a Sara Lee branded channel on Metacafe.
The videos linked to a Facebook page, where moms were asked how they would deal with these Mama Sagas. The Facebook page served as the campaign's informational hub, with several tabs showcasing recipes, lunch-making tips, interactive discussions, product information, videos, polls and coupons.
A Twitter handle was also created to share relevant content, link to the Facebook page and converse with mommy bloggers in hopes of building relationships and aligning them with the brand.
"Facebook was the tool that we used to target our direct audience, while Twitter served as a great tool for us to use to influence the influencers—the trusted bloggers who are reaching our target," says Matheu. "We wanted to make sure that they trust and use the product themselves so that they become a credible brand ambassador for us."
Says Hansen: "On the whole, our outreach is Facebook-centric, but Twitter is a great supplemental tool that allows you to get information in front of people very quickly, and there are some people who rely on it a lot, so it became a vital part of our strategy."
DATA SLICES
The videos proved to be highly engaging, as illustrated with the following metrics:
• Sagas videos hosted on Metacafe received more than 2.2 million video views, while the Facebook page received 200,000 additional views.
• The Sara Lee Deli Facebook page attracted more than 23,000 fans who downloaded 65,000 coupons, a 6,800% increase in unique visitors to the site in just two weeks.
• Traditional media placements in publications such as Brandweek and the Chicago Sun-Times generated more than 15 million impressions.
• Six influential mom bloggers posted about the "Mama Sagas," which combined to reach more than 135,000 visitors per month, a highly valuable strand of communication between potential consumers and credible brand ambassadors.
With a program success benchmark set at 200,000 video views and 500 Facebook fans, O'Malley Hansen Communications shattered client expectations by more than 1,200%.
"Integrating a strong social media component into our overall strategy helped us create a multi-faceted program to better connect with today's busy moms, because we understood that she also lived online," says Jonathan Drake, business unit GM and VP, Sara Lee Deli and Sweet Goods.
LOOKING AHEAD
Despite the overwhelming success of the Mama Sagas campaign, there were a few strategic lessons learned along the way.
"The challenging piece of a program like this is figuring out how the campaign lives on," says Hansen. "Is it finite? There are fans that are now engaged, and the content lives online forever, but will it always be dynamic?"
So Sara Lee is now looking at strategies to extend programs like Mama Sagas. But the challenge is dealing with a social media universe that changes so quickly.
"You really have to be nimble and responsive to not only what people are saying online, but to the way people are using online tools and new technologies," says Hansen.
For Sara Lee, however, the Mama Sagas success was a start in reaching a new level of customer engagement—a level that the company will strive mightily to maintain. PRN
CONTACT:
Sara Matheu, media@saralee.com; Todd Hansen, todd.hansen@omalleyhansen.com; Jonathan Drake, media@saralee.com.
---
Optimal Agency Relationships: Clarify Internal Message First
At the heart of the Mama Sagas campaign were several partnerships, namely the collaboration between Sara Lee and O'Malley Hansen Communications. Leveraging Sara Lee's insight into its customers and relying on OHC's innovative and strategic PR initiatives were what made the campaign ultimately successful. Here's some insight into making those relationships work:
• Be prepared internally: It's important for Sara Lee's brand marketing and corporate communications teams to be on the same page before work starts with an outside agency, says Sara Matheu, director of corporate communications at Sara Lee.
• Bring in the brand: Matheu encourages Sara Lee's PR agencies to work very closely with brand teams, which results in cohesiveness and open communications between the agency and the brand team.
• Insist on excellence: OHC's partnership with video sharing platform MetaCafe was a great alliance, says Todd Hansen, principal at OHC. "They are very good at collaboration and in developing really smart platforms that work," Hansen says.
---
Match Social Media Strategy With Goals and Brand Values
Social media strategies should be reflective of a brand's values. "It starts with those strategies that help guide the marketing mix," says Sara Matheu, director of corporate communications at Sara Lee and leader of the "Mama Sagas" campaign. "Our focus on quality, convenience, taste and variety of our lunch meat needed to come through in our social media outreach." That's where the objectives of "entertain, educate and engage" came in.
1. Entertain: After hiring Second City Communications, an agency that specializes in entertainment, high visibility was achieved through a brand-sponsored channel on the prodigious video site MetaCafe. "We specialize in connecting people with brands through the humor of everyday life—and great material is really funny when it's true and connected authentically to real life," say Tom Yorton, president and COO of Second City.
2. Educate: The satirical videos caught viewers' attention and led them to the Sara Lee Facebook page, which served as the central information hub for all things related to Sara Lee Fresh Ideas sliced-to-order deli meats.
3. Engage: The campaign sought interaction on two different fronts. Facebook was the major tool for initiating and hosting ongoing conversations about how moms would handle the situations presented in the Mama Sagas videos. Twitter served as an informational tool to get Mama Sagas messages out quickly.