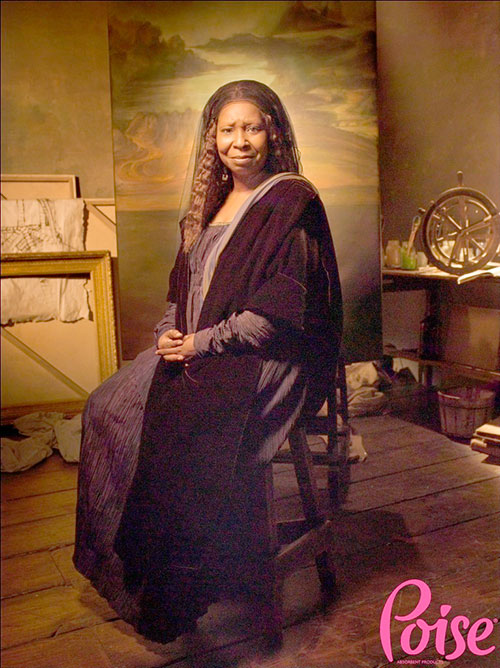 Whoopi Goldberg starred in webisodes and ads for Poise that suggested that light bladder leakage was more common than most women assumed.
Image courtesy of Marina Maher Communications
Company: Kimberly-Clark
Agency: Marina Maher Communications
Timeframe: Feb. - April 2010
Kimberly-Clark's Poise product had an image problem. The panty liners designed for woman who experience bladder leakage were being shunned. The assumption that Poise products were intended for the incontinent and elderly caused women 18-65 to bypass the brand, keeping it, and women's bladder issues, a secret.
It was time to reinvent the Poise name so that it could be noticed for what it is—a brand that caters to women of all ages who share a common health condition.
TACKLING THE TABOO
Poise is a brand of pads and liners made specifically for urine leaks. Along with the condition it is intended to alleviate, the products became stigmatized as something to avoid, something shameful that women do not talk about. Because there is so little dialogue about Poise's use among women who are affected by minor bladder control issues, many have been unaware of its commonality, and thus unaware of Poise's purpose to serve a wide range of healthy women.
With the help of Marina Maher Communications (MMC), Kimberly-Clark vowed to get the message out that the stigmatized condition is actually quite common, and set out to get its product into the hands of those it was intended for.
LBL RESEARCH
MMC's first goal was to raise awareness of the condition Poise products are designed for, and particularly to reduce the stigma of incontinence by redefining it with a more accurate term—"light bladder leakage," or LBL. With the help of the Women's Health Foundation (WHF), MMC conducted a survey which measured women's attitudes about LBL—a term coined during the campaign—and its effect on their lives.
The study yielded some interesting results. According to the survey, one in three (about 40 million in the U.S.) women experience LBL, 60% of women with LBL do not speak about it with friends or family and nearly 40% fail to mention it to a healthcare professional. In addition, 70% were surprised that so many other women share what they are going through.
"We had two objectives," says Diana Littman Paige, executive vice president of MMC Health & Well Being. "One was to recast the condition out of incontinence, and the other was to improve the awareness of Poise. We wanted to position this as a product that is for LBL."
To eliminate stigmas, a conversation about the brand and the condition would have to be initiated. MMC guided Kimberly-Clark in beginning this dialogue using several tactics. The first was incorporating relatable language into communications efforts. Extensive market research revealed a need to connect with the target audience in a way that made them comfortable, willing to listen and, most importantly, willing to express themselves.
Incorporating language nuances like "light bladder leakage" and "1 in 3 like me" garnered positive feedback from those whom project members hoped to reach.
"We found we had to come up with something more relatable," Littman Paige says. "We realized that once we had the relatable language, it helped them understand how common this was, [and] gave them a very relatable way to talk about this."
Third-party partnership with WHF proved effective as well; the nonprofit sponsored events throughout the country to educate women about LBL, and encourage them to be open and vocal about the condition.
WHOOPI AND THE SPRITZ
Perhaps the most notable of the campaign's strategies was aligning with actress/comedian Whoopi Goldberg, who, in addition to a willingness to speak confidently about the topic, created webisodes for the Poise Web site dealing with the "below the belt condition" in a humorous manner. Referring to LBL as "the spritz," Goldberg's online video series humorously portrayed historically significant women as LBL sufferers.
"The idea was to take this taboo topic and inject it into pop culture," says Suzanne Haber, chief of media innovations at MMC. Goldberg and the webisodes would prove to be the engine that would propel LBL and the Poise brand into the mainstream.
MMC planned a webisodes launch event in New York for Feb. 10, 2010, that included WHF members who were available to answer health questions. The webisodes were also aired on Goldberg's show The View; WHF founder Missy Lavender also spoke on the show about the condition and Poise's relevance.
Taking in the success from The View exposure, Haber says it was time to take the campaign to a higher level. MMC approached Kimberly-Clark about creating an ad that would appear during the 2010 Oscars ("the Super Bowl for women," says Littman Paige). MMC believed that viewers would be won over by Goldberg, a previous Oscar winner, presenter and host. The 60-second spot created even more buzz, reaching a wider target audience.
Yet perhaps the most successful aspect of the LBL message wasn't in MMC's strategic plan. On March 13, 2010, on Saturday Night Live, Kenan Thompson, who often impersonates Goldberg, performed a skit that included all of the Poise message points. "We could not have scripted it any better ourselves," muses Haber.
LAUGHTER IS THE BEST MEDICINE
In addition, the campaign included celebrations organized by House Party, a company that organizes turnkey events, titled "Ladies Who Laugh." The title came from the idea that because women were embarrassed about their bladder leakage, they refrained from laughing in order to prevent any accidental release.
With this in mind, MMC worked with House Party to develop a series of parties that women would plan and attend themselves, in order to communicate that the condition is normal and can be fun to talk about.
In a PR effort to reach a broad range of women, invitations were sent out via Poise, House Party and WHF to their respective networks, encouraging women to apply (via the "1 in 3 like me" online community) to hold the events. Out of the 10,000 who applied, 1,000 were chosen to host Ladies Who Laugh parties across the country.
The selected hosts were able to communicate with other hosts and potential guests on the campaign Web site (www.1in3likeme.com) to plan their event, and were each sent a party pack containing Poise samples, costumes tied to Goldberg's "Great Women in History" videos and a Flip camera to bring to the event.
With an average of 11 guests per party, along with the hosts and original applicants, nearly 12,000 women were reached through the Ladies Who Laugh effort. In addition, 11% of these submitted videos sharing their funniest LBL moments to be posted on the 1 in 3 like me Web site.
POISE PARTIES
Targeting influencer media was carried out with an integrated approach. Assets like the survey, webisodes, launch event and parties were handled by the PR and advertising agencies working together in a comprehensive effort to get Poise's message out.
With the goal to spread the awareness and use of "1 in 3 like me" and "LBL" language, the ad campaign included several angles. Mindshare Entertainment produced the webisodes depicting LBL; Organic Inc. developed the brand Web site.
MEDIA CHALLENGE
On the PR side, MMC used this exposure along with the survey results to leverage media outreach, says Haber. According to Haber, one of the biggest campaign challenges was making the most of Goldberg's limited availability for the media. So the team had to be strategic in its targeting—phone interviews landed articles on national platforms like People.com and USA Today, for example. Other MMC achievements include:
• Within a month of being launched, the Poise Web site (including the campaign site) received 600,000 unique visits.
• In March 2010 alone, site traffic increased 450%.
• Feb.-April 2010 saw a 200% increase in Web site traffic overall.
• The campaign received 240 million media impressions in major print, online and broadcast outlets.
• The target audience was reached and provided extremely positive feedback in venues such as The View's Web site and the Kimberly-Clark consumer hotline.
• More women bought Poise products and asked for samples than ever before, increasing shares and requests by 400%.
"We conducted the campaign in an appropriate fashion," says Joe Kuester, senior brand manager of Poise. "[Goldberg] brought the condition to life, and it was defined more precisely as what it is. It's not incontinence, it's light bladder leakage. And through repositioning the condition, we repositioned the brand."
Haber says that the combination of full integration, broad outreach and creative strategy "put this campaign over the edge." And she means that in a good way.
According to Kuester, with the help of MMC, Kimberly-Clark "reached phenomenal numbers, and there was a phenomenal increase in people calling to express appreciation" for the de-stigmatization of LBL and Poise products. PRN
CONTACT:
Suzanne Haber, shaber@mahercomm.com; Diana Littman Paige, dlittman@mahercomm.com.