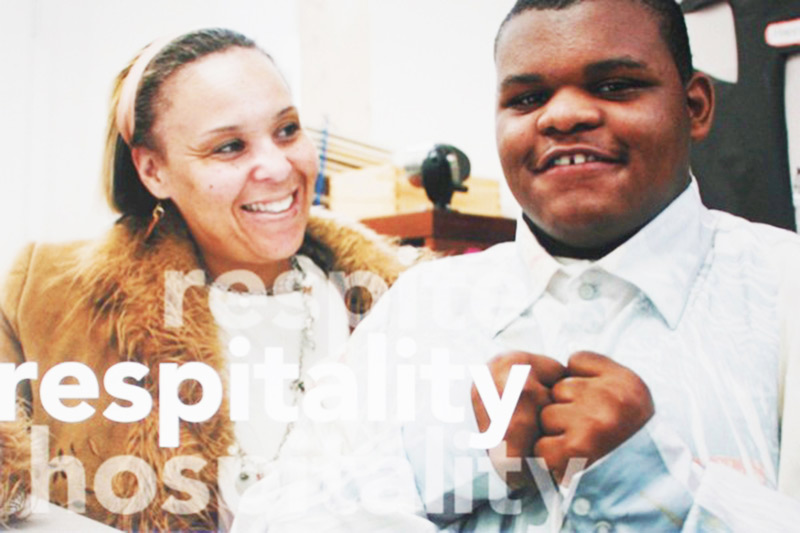 In 2010, D.C.-based National Children's Center—with help from marketing/PR agency 4GreenPs—was able to make at least 52 families smile, providing much-needed respitality services to one family each week.
Photo courtesy of 4GreenPs
Organization: National Children's Center (NCC)
Agency: 4GreenPs
Timeframe: Feb. 2010 - February 2010
Caring for a child or adult with a developmental disability is a daunting responsibility with few, if any, breaks. Even the most energetic and dedicated caregivers often feel isolated and stressed. The National Children's Center Inc. (NCC), the lead and fiduciary agent for Greater D.C. Respitality, provides D.C. area caregivers with a "pampered night out" to help them relax, recharge and refocus. Most importantly, Greater D.C. Respitality works with the families to ensure their loved one is well cared for while they are away enjoying the respitality package.
In February 2010, marketing and communications agency 4GreenPs was brought in to help achieve the program's lofty goal: to double the number of families served in 2010 by providing a respitality package to one family each week of the year, up from 26 families in 2009. Lynn Miller, CEO of 4GreenPs, says she and her team focused most intently on fundraising. They did this because if contributions had remained flat or declined­—as was the norm with similar nonprofits during the recession—the NCC would not have been able to fulfill its mission of doubling the number of families served. "From a PR perspective, we wanted to raise awareness of NCC's mission within D.C. and the metro region," says Miller. "When I first met with NCC CEO Philip Campbell, he told me that NCC was 'the best-kept secret in D.C.' We set out to change that."
RESPITE FOR RESEARCH
While the NCC's goal for 2010 was to serve 52 families, substantive research had yet to be done, so the three-person 4GreenPs team set out to do it. "The first thing we did was to slow the NCC down, and go back and do the proper research about past giving trends," she says. Researching the NCC's previous respitality program fundraising campaigns showed that:
• Giving was flat from 2008 to 2009, holding steady at $52,000 each year. However, the number of donors decreased by 25% from 2008 to 2009, dropping from 40 donors to 30.
• Google searches and interviews with Washingtonians unfamiliar with NCC showed a low level of awareness of the meaning of "respitality," demonstrating that the program's communications would need to not only "make the ask" but explain the concept of respitality.
• The general population did not fully understand the term "developmental disabilities," although some subsectors were well known: autism, Down syndrome, epilepsy and brain injury.
D.C. Respitality Program's Donors, Dollars Increase
Year
Amount Raised
# of Donors
# of Families Served
Number & Value of In-Kind Donations
Number & Value of Cash Donations
Range of Cash Gifts Average/Median
2008 / 09
$52,555
40
5
2 Donors/ $10,130.00
38 Donors/ $42,425
$11,16.44/$375
2009 /10
$52, 200
30 (25% decline)
26
10 Donors/ $10,000
20 Donors/ $42,200.00
$2,100/$1,000
2010 /11
$89,030 (71% increase)
45 (33% increase in total number of donors.)
52
18 Donors/ $45,550
27 Donors/ $43,550
$1,636/$500
Comprehensive research that led to a different approach in donor outreach and messaging helped the National Children's Center in Washington, D.C., achieve its 2010 overarching objective of providing one family per week with respitality services.
Source: 4GreenPs
While research found gaps in the public's knowledge of the program, there were other key fundraising challenges:
• The 4GreenPs team was strapped with a small budget and tight timeline that precluded the staging of a glitzy, star-studded fundraising event. The D.C. hospitality industry—NCC's target donor sector—was heavily wooed by D.C.'s large nonprofit sector to sponsor flashy charity events attended by celebrities who were used as attendance draws. Moreover, it was a fatigued sector, as restaurants and hotels were besieged with donation requests from every charity, school and Scout pack in the region.
• The NCC serves a population that includes many of the most economically disadvantaged families in the greater D.C. region. Most of the caregivers seeking aid from the program are single mothers, grandmothers or foster mothers—people that generally are unlikely to become loyal customers of the establishments that would make the donations. "Most of the respitality recipients have not gone out since their child with special needs was born, and have forgotten what it feels like to have a night out for themselves," says Thaiia Reynolds, development manager for NCC.
• Asking for bigger donations and seeking new donors in the midst of a deep recession was a major challenge. Most charities were cutting back on programs, or planning modest increases, if any.
STRAIGHTFORWARD STRATEGIES
Given the boldness of a donation request during a down economy, the four-person team decided to approach potential donors and community members humbly, directly and repeatedly. To address the challenge of asking donors to give more in a tough economy, they shifted away from the prior years' strategy of relying primarily on the hospitality sector, and instead focused on NCC's large vendor community.
To dramatize a gift's impact, a series of highly targeted appeals were drafted that included quotes from prior respitality recipients. Robyn Miller-Tarnoff, a PR consultant for 4GreenPs, says the team recognized early on that the respitality recipients had very powerful stories to share. "Their lives as caregivers and their stories were all uplifting, and so we wanted to showcase and highlight their words and experiences in our outreach to both potential donors and the media," says Miller-Tarnoff.
To keep costs low, personalized e-mail invitations on NCC letterhead were sent out in mid-April, replacing fancy direct mail pieces that had been used in past years. A flyer was designed by an artist and donated at no cost to NCC, and The General Design Company donated signage and programs for the respitality reception. "We stopped spending money on donor recognition gifts," says Miller, which allowed the team to stretch donor dollars further.
MESSAGING CHANGE
Based on the research, the term "developmental disabilities" was de-emphasized in favor of "special needs, autism and Down syndrome" to make the conditions more understandable to potential donors. Leslie Gilliam, a PR consultant for 4GreenPs, says, "When you're asking for money in a program where the terminology isn't well-known, defining it and attaching a face and a story to it goes a long way."
A Twitter account was launched to connect with target communities, and to thank donors. "Once the terms Down syndrome and autism were identified, we knew we could access two huge, active online groups that have large nonprofit communities and instant name recognition," says Gilliam. Thus, the Twitter feed, letters and pitches to press and bloggers focused on the individual conditions.
In the future, Miller says she'd like to use Facebook more extensively, since so many moms—the primary caregivers served by respitality—are active on that social network.
The culmination of the campaign was NCC's third-annual reception on June 16, 2010, honoring past recipients of respitality packages and the donors who make the program possible. Miller, a longtime mom blogger, leveraged that community and landed a contact that blogged about autism for the Washington Times to attend and cover the event.
The criteria for measuring success were simple: Would the NCC end up with sufficient donations to sponsor a family every weekend? The answer to that question was a resounding "yes." The in-kind gifts, cash and reduction of the cash grant for caregiving (still a generous $240 per family) allowed the organization to meet that lofty objective (see the chart for year-over-year numbers).
The best result? The feedback from respitality recipients, one of whom told the DC Examiner, "The little vacation gave me a chance to relax outside of my motherly duties with my little ones, especially the one with Down syndrome."
After such a big success, Miller says there's a lot of discussion going on now about exactly how to further grow the program, surely an encouraging sign for nonprofit organizations everywhere. PRN
CONTACT:
Lynn Miller, Lynn@4GreenPs.com; Thaiia Reynolds, treynolds@nccinc.org; Robyn Miller-Tarnoff, Robyn@4GreenPs.com; Leslie Gilliam, Leslie@4GreenPs.com.