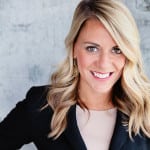 2017 Top Women in PR
Megan Shroy
Founder/President
Approach Marketing
Megan Shroy is a millennial entrepreneur who in 2010, at age 26, launched her own agency. Approach Marketing is a boutique virtual agency providing strategic PR and marketing services to nationally recognized brands.
Approach brings together experienced former agency employees to provide award-winning services to clients. Team members are independent contractors who opted out of the traditional agency. This business model has proven successful—Approach has doubled in size every year. Shroy has worked with clients including McDonald's, Chase, Breyers, Tim Hortons and dozens of other leading nonprofit, CPG and healthcare brands.
For the past 19 years, Make-A-Wish Ohio, Kentucky & Indiana (MAWOKI) has partnered with Entercom's WZPL 99.5 and the "Smiley Morning Show" team in Indianapolis to host a 36-hour Request-A-Thon that raises money to help grant the wishes of Hoosier kids. In 2016, MAWOKI charged Approach with building more awareness for the event and identifying new ways to appeal to potential donors. Shroy led the team's charge. Beginning at 6 a.m. on the first day of the Request-A-Thon, listeners have the opportunity to tune in to the live broadcast and request any song in exchange for a $25 donation to Make-A-Wish.
In 2014, the community rallied together to raise over $580,000 and grant 72 wishes through the event, which served as a benchmark for 2015. Shroy helped coordinate media around the surprise reveal of a child's wish for a guitar to occur live in the studio. Local TV affiliates were invited in to capture the boy's reaction. Key messages around the power of a wish for kids in treatment permeated regional TV, radio and online media. 15 traditional media placements were generated, contributing to 1.85 million media impressions. Through caller donations, event media coverage and sponsorships, the Request-A-Thon raised $624,072.