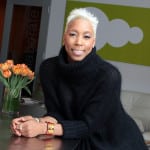 2017 Top Women in PR
Kimberly Blackwell
Chief Executive Officer
PMM Agency
Kimberly Blackwell's enterprise, PMM, is retained to build, position and protect some of the world's most recognized brands, including Nationwide, Toyota, Honda, FedEx and more. As a thought leader, she's appeared on/in HuffPost Live, Time Inc. and Fortune magazines, and named by Black Enterprise magazine as one of "Twenty-Five Influential Black Women in Business," and honored as an EBONY Power 100.
In conjunction with the 2016 National Urban League Conference in Baltimore, the world's leading automaker tapped PMM to oversee the management and execution of the brand footprint at the annual conference, demonstrating Toyota's commitment to listening, engaging and empowering the African-American segment. Led and executed under Blackwell's strategic direction and vision, PMM implemented a multi-tiered strategy with multiple brand touch points.
Tactical execution included product displays, employment brand management, data collection, social media amplification and a booth activation centered around the theme #TOYOTAiRepresent featuring a custom T-shirt shop, car safety demonstrations and product specialists. In conjunction with the Conference's Community & Family Day, PMM also created a pop-up barbershop. Dubbed #ToyotaCuts4Kids, the activation offered complimentary haircuts and manicures to Baltimore youth.
For the 2016 Central Intercollegiate Athletic Association, PMM partnered with oldest African-American athletic conference in the nation to share Nationwide's brand and value proposition to multicultural consumers. Leveraging Blackwell's extensive networks and industry relationships, PMM created an integrated brand plan across partner assets, including broadcast, positioning Nationwide as a committed partner and employer of choice. Tactical execution included lead generation, social media engagement, talent procurement, brand activation, executive management, campaign ideation and execution and more.
The ROI impact included heightened social media engagement and media exposure, Nationwide's designation as the Official Insurance and Financial Services Partner for the tournament, talent acquisition, lead generation, business build, heightened brand visibility and consideration and increased awareness across the consumer segment.