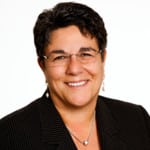 2017 Top Women in PR
Janice Maiman
Senior Vice President, Communications, Media, News & Professional Pathways
American Institute of CPAs
As PR chief for the world's largest member association representing the accounting profession, Janice Maiman is leading change efforts to ensure CPAs remain relevant. The message is getting through, as public perception of the CPA brand stands at its highest level since indexed research began in 2008, and business decision-makers rank CPAs as their most trusted advisor among finance professionals.
As a catalyst for financial literacy, Maiman influences millions of Americans who turn to the AICPA for guidance on money and savings. She oversees student recruitment initiatives, and enrollment in U.S. accounting programs is now at an all-time high.
Maiman recently worked on making the case for a new international association between the AICPA and the U.K.-based Chartered Institute of Management Accountants (CIMA). The AICPA-CIMA joint venture strengthens connections between management and public accounting and gives the profession a stronger voice on the global stage.
Maiman oversaw a multipronged PR effort to solicit support for a member vote to approve the integration of management, operations and strategy of the two organizations. The strategy included personalized member communications, a microsite detailing the rationale for the new association, use of all communications channels from social media to road shows, op-eds, and outreach to state accounting societies and other key stakeholders.
The goal was to win two-thirds ballot approval from AICPA members for the joint venture evolution. The ballot was ultimately passed by a wide margin—almost 87% of AICPA members supported it. Some 52 state and territorial CPA societies, along with a lengthy list of leaders of the profession, expressed their support in advance of the vote. The positive vote will impact the trajectory of the accounting profession worldwide.