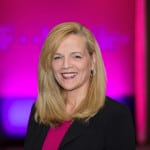 2017 Top Women in PR
Janice Kapner
T-Mobile
In the past three years, Janice Kapner orchestrated the narrative and all PR efforts behind T-Mobile's wildly successful Un-carrier Revolution. She played a key role crafting and executing the Un-carrier brand movement. Her work is a crucial component of T-Mobile's incredible market share grab and stealing customers from the competition.
T-Mobile's 10th Un-carrier signature move, Binge On, shook up the industry once again by allowing video to stream free on mobile devices. Kapner led the communications team and partner agencies in planning and executing an LA media event coupled with a private Bruno Mars concert for 6,000 T-Mobile friends and employees. The events garnered heavy media coverage among tech, business, consumer and lifestyle outlets. In fact, due to strong media turnout, and because of the broad-ranging brand partnerships established via the initiative—including, Netflix, HBO, ESPN and many other content providers—Un-carrier X set a T-Mobile record for event media coverage. The event produced 544 stories, 30.55 million broadcast impressions, and over 1 billion social impressions.
Another Un-carrier move, another opportunity for Kapner and the Corp Comms team to break the mold and set a new industry standard. This time, it was all about thanking T-Mobile customers like they'd never been thanked before. With #GetThanked, T-Mobile unveiled a set of initiatives dedicated exclusively to thanking customers. In the days leading up to the big announcement, she and her team released several humorous teaser videos featuring CEO John Legere aimed at taunting the competition while building hype for another Un-carrier event.
On the day of the announcement, in a nationwide simulcast to millions of Un-carrier customers via the web and social media, Legere and COO Mike Sievert shared the exciting details while T-Mobile executives continued to drive excitement on social media throughout the following days. The move was a clear success in the media, with 254 stories, 46.08m broadcast impressions, including an appearance from Legere on Good Morning America, and a staggering 3.22 billion social impressions.