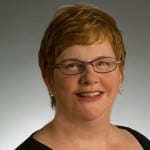 2017 Top Women in PR
Corinne Kovalsky
Vice President, Global Public Relations
Raytheon
Corinne Kovalsky, VP of global PR for Raytheon, sets PR strategy, overseeing executive messaging, issue management and media relations, and also serves as chief spokesperson. She is a consummate storyteller, a passionate advocate for brand journalism and a PR leader who understands that the best story wins. Kovalsky advances and upholds the Raytheon brand, and has also helped lead this Fortune 125 company into the digital age.
Her excellent work was on display at the Farnborough Airshow, which is the Aerospace and Defense sector's premier customer and branding event. It takes a small army and significant collaboration across the enterprise to stage Raytheon's footprint at the show, and Kovalsky was responsible for Raytheon's huge media and PR outreach effort, with a small on-the-ground team. A competitor's jet was scheduled to fly at the show, so the team's goal was to showcase Raytheon's sector-leading international business and be the lead alternate story at Farnborough. They hoped to secure the third largest share of voice and maintain positive messaging in all coverage from the show.
Ultimately, Raytheon received extensive media coverage in both top-tier and trade outlets, securing the largest impact (37% to 33%) and most positive tone (36% to 28%). Raytheon appeared in TV, print and online coverage, with most pieces featuring commentary from CEO Tom Kennedy, and company presidents (936 media hits, including Bloomberg TV, CNBC, CNN, The Economist, Financial Times, BBC and Reuters as well as key trades).