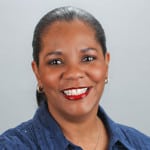 2017 Top Women in PR
Cheryl McCants
President and CEO
Impact Consulting Enterprises LLC
Cheryl McCants is an award-winning communication strategist and spokesperson, whose diverse career experience spans the real estate development, retail, sports branding, telecommunications, biopharmaceutical, nonprofit and media arenas.
A bilingual professional, she has more than two decades of integrated strategic development experience in crisis communication, social media and marketing. She was honored by Time Warner and Essence Magazine as a Power Leader in the African-American community, and is a 2012 National Urban Fellows Leader of Change for America.
In terms of projects, McCants worked with the internal communication, global commercialization and human resources teams of a large pharma company and developed and implemented strategic communications aimed at transforming the company's international work culture. It helped to reduce spending, improved employee morale and lowered overall corporate expenditures.
Another campaign saw McCants capitalize on the media attention surrounding Super Bowl XLVIII, held at MetLife Stadium in New Jersey, and created Great Football Sunday, a campaign to end homelessness. By using the media spotlight, crowdfunding and social media, McCants and her team raised awareness and support for two organizations working successfully to end homelessness in the two-state region. The Great Football Sunday campaign became a breakthrough approach to capacity building for nonprofits through corporate partnerships.
McCants and her team also designed, developed and facilitated in-person and online training sessions for small and established business owners. The one-on-one sessions, in-person and via phone, focused on the writing, grammar and syntax needed to effectively communicate brand messages and connect with customers.