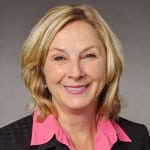 2017 Top Women in PR
Carol Norris-Smith
Vice President, Marketing & Public Affairs
Princeton HealthCare System
Under Carol Norris-Smith's leadership, the communications program developed Princeton HealthCare System's brand identity, established the Community Education & Outreach Program, which serves more than 35,000 annually through health lectures and screenings, and administered an award-winning campaign about PHCS' move to a new hospital.
Norris-Smith leads a team that has received more than 60 regional and national awards, including a prestigious Silver Anvil from the Public Relations Society of America.
Norris-Smith planned and produced a highly successful public relations campaign to announce that PHCS and the University of Pennsylvania Health System (Penn Medicine) had signed a Letter of Intent to pursue a partnership. The campaign utilized traditional and social media and in-person events to reach internal and external audiences to promote awareness, address questions and encourage full transparency of a major new strategic direction at a time of historic change for the organization.
Norris-Smith oversaw the launch of a new website, a dedicated phone line and an e-mail address. Additional communication vehicles included media briefings, phone calls, news releases, e-mail blasts, letters, employee newsletters, social media posts and handouts with frequently asked questions. The CEO and other executives led eight internal town hall meetings and met with local, government and statewide leaders.
The highly successful campaign received widespread media coverage, appearing in Associated Press articles and approximately 20 local and regional print and online news outlets, healthcare-oriented publications and television newscasts. Internal meetings were attended by nearly 600 employees, physicians and volunteers. PHCS received positive reactions on social media and in the comments section of online articles.