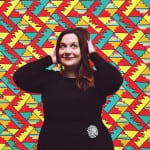 2017 Top Women in PR
Alana Beseau
VP, Creative Director
Weber Shandwick
Alana Beseau is an agency-changing force of nature. Her passion infuses everything she does with energy and emotion. Her people skills empower those she works with, in her agency and beyond. Her creativity fuels Weber Shandwick's growth. And when you combine all of that with her smarts, it's no wonder she's transformed not only the teams and clients she works with, but the agency as a whole.
Newtons is an example of Beseau making lemonade out of lemons. Or figs. Fig Newtons was dropping the "fig," broadening out to other fruits. How do you best tell that story? If you're Beseau, you develop a workplace sitcom, complete with fruit-headed employees, about what happens when fruit joins the previously fig-only office. Called "Now We're Newtons," it took what could have been run-of-the-mill product news and made it a compelling story.
As creative lead on TUMS, she took a handful of existing television commercials and created a completely realized world, driving digital content and PR activations with giant food characters—which sounds crazy, but makes total sense for the brand.
Beseau makes a mark wherever she goes. On her teams, she serves as part mentor, part inspiration, part creative powerhouse. And that extends beyond just her organization. On multiple accounts, she drives not only her office's activations, but the activations of other agencies with her creative thinking, strategic underpinnings, and powerful personality.