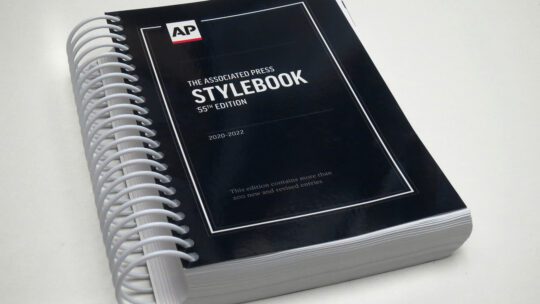 [Editor's Note: One of the most popular articles on prnewsonline.com is a review and summary of AP style. We took that as a sign and decided to deliver a series of AP style updates for newsworthy topics. Previous editions examined terms for writing about elections, cryptocurrency, diversity, equity and inclusion (DEI) and finance. In addition, there was a grammar review.]
In this installment, we highlight everyone's favorite fake American holiday, the Super Bowl.
Below is a sample of Super Bowl, football and celebratory terms in the AP Stylebook. The AP also offers special sections, including a chapter on sports, an entry on football and a topical guide on sports betting.
cover:
A team that covers the spread beats oddsmakers's expectations for that game, regardless of an actual win or loss.
Example: 
The Mets beat the Yankees but failed to cover the 3-run spread. The Yankees lost the games but covered the spread.

Crock-Pot:
A brand name, not used unless referencing that product; otherwise slow cooker.
Examples: 
Crock-Pot posted online a ton of great recipes for the big game.
I made great chili in the slow cooker. 
favorite, underdog, upset:
Use favorite, underdog, upset when writing about odds from a sportsbook. For individual games in team sports and head-to-head events like boxing or tennis, the favorite is the team or player who oddsmakers say is most likely to win. The underdog is most likely to lose. An upset happens only when an underdog beats a clear favorite. 
Example: 
Luigi was a more than 20-1 underdog when he knocked out Mario in the Rainbow Road racing finale.
food:
Most food names are lowercase: apples, cheese, peanut butter.
Capitalize brand names and trademarks: Roquefort cheese, Tabasco sauce.
Most proper nouns or adjectives are capitalized when they occur in a food name: Boston brown bread, Russian dressing, Swiss cheese, Waldorf salad.
However, use lowercase when the food does not depend on the proper noun or adjective for its meaning: french fries.


football by the numbers:

Use figures for yardage, scores, statistics, time on the clock and schedules.
Examples: 
1-yard line
fourth-and-1 situation
4 seconds before halftime
gained 3 yards (not three yards)
third-and-4, second-and-10, etc.
Week 4, Week 11, Game 12.
2-point conversion
8 1/2 sacks, not 8.5 sacks
football terms: 
blitz (n., v.)
day to day or day-to-day basis
end zone
field goal, not FG
goal line
halftime
handoff
interception, not INT
kick off (v.), kickoff (n., adj.)
out of bounds (adv.), out-of-bounds (adj.)
pick six (n.), pick-six (adj.)
playoff (n., adj.), play off (v.)
sideline, on the sidelines
TD is acceptable in all references to touchdown


gambling:
Preferred term instead of "gaming" for risking money or some other stake on the outcome of an event. Betting and wagering are also acceptable. Avoid using the term "gaming" except in direct quotations, proper names or when referring to video games, as it is often used as a euphemism to downplay gambling. The terms "sports gambling" and "sports betting" are essentially interchangeable.
Examples: 
Gambling on blackjack at a casino
Gambling on a chess match
Gambling on football
Betting on a horse race
The friends wagered on a footrace
A betting pool for the NCAA Tournament

game day:
Two words rather than one. 
Example: 
The commissioner said he expects a strong game day atmosphere in Phoenix.


positions:
Spell a player's position on first reference. On second reference, mix in QB for quarterback, RB for running back, FB for fullback, WR for wide receiver, TE for tight end, DE for defensive end, DT for defensive tackle, LB for linebacker or CB for cornerback (never just corner).
Example:
Quarterback Joe Burrow threw more than 50 yards to running back Joe Mixon on short passing attempts. 


spread, line:
It's not necessary to use the word spread—just say whether a team is favored or not. Express numbers for spreads as mixed numbers rather than decimals. Line also is acceptable. 
Examples: 
The Buffalo Bills were favored by 8 1/2 at home against the New England Patriots. 
The Dolphins opened as a heavy favorite, but the line tightened to 2 after quarterback Tua Tagovailova was injured at practice.

stadium, stadiums:
Capitalize only when part of a proper name.

Example:

Yankee Stadium

The train will drop us off at the stadium.

Super Bowl:
Refer to the Super Bowl by the year of the game, not by Roman numerals. If a counter is needed, use cardinal numbers. 
Examples:

2023 Super Bowl preferred over Super Bowl 57; do not use Super Bowl LVII

titles:
Job descriptions, field positions and informal titles are lowercase. Coach, owner, general manager, team doctor, place kicker, offensive coordinator are lowercase.
Examples:  
Chiefs coach Andy Reid, Buffalo Bills general manager Brandon Beane

versus:
Spelling out the word in ordinary speech and writing, as well as in quotes. Abbreviate as vs. in short expressions.
Examples: 
Belichick's unconventional passing game versus Seattle's secondary.
Clippers vs. Warriors.

yard lines: 
Use figures to indicate the dividing lines on a football field and distance traveled.
Examples:
50-yard line
He plunged in from the 2.
He ran 6 yards for a 7-yard gain.
Nicole Schuman is senior editor for PRNEWS. Follow her @buffalogal