Ray Jordan, Senior Vice President, Corporate Affairs, Amgen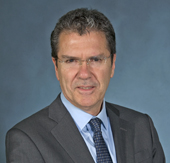 Ray Jordan has had a long and illustrious career as a communicator in the pharmaceutical and healthcare industries. Starting his career as a reporter, Jordan held positions at Bristol Myers and Dun & Bradstreet before landing at Pfizer, where he held a number of positions over the course of 17 years. In 2003 Jordan went to Johnson & Johnson, were he led corporate communications and public affairs for more than 250 operating companies in 60 countries.
His tenure at the company was not without challenges, and included numerous product recalls, safety issues and lawsuits. At J&J, Jordan cultivated a straightforward philosophy for the company's communications: do the right thing and be seen to do the right thing.
Throughout the years, Jordan has also served the industry as chair of PhRMA's Public Affairs section and the National Pharmaceutical Council's User Group, and he has served as a member of the board of directors of the Foundation for American Communications, the board of trustees of the Institute for Public Relations, and the Seminar Committee, as well as a board member of the Arthur W. Page Society. In Oct. 2012, Jordan became senior VP, corporate affairs at Amgen. Over the years his deep experience in business management has served him well. He is known not only as a skilled communicator but also as a strategic thinker. —Scott Van Camp