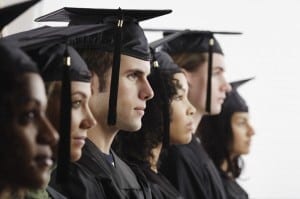 It's college-commencement season. Starting this weekend and into June graduating students will hear a lot of about "following your dreams" and how things work in the "real world."
Of course, the reality is that as most graduates pick up their diploma they'll probably think about taking that backpacking trip through Costa Rica, driving down Pacific Coast Highway to check out Big Sur, or other ways to spend a carefree summer.
But 2013 PR graduates are entering one of the worst job markets in decades. (The unemployment rate remains a stubborn 7.5%, down from 8.1% in April 2012, but it is higher when you factor in those people who are underemployed or have stopped looking for work.)
However, to increase their odds of landing a job, there are several steps that PR graduates should take:
> Sharpen your resume. Sure, you have been overscheduled since grade school and have a lot to share about your accomplishments, but you need to whittle down your resume to the bare essentials. Include items that demonstrate your flair for writing and communications. And make sure it's just a page or so. In a buyer's market, HR managers are not going to weed through resumes that are longer than that.
> Think about who can provide a solid reference for prospective employers, such as former professors or the managers who you worked for during your summer internships.
> The current crop of graduates was weaned on social media. But prospective employers may take a dim view of that picture of you on Facebook doing battle with a beer bong. Be sure and scrub any content from your social pages that could be deemed objectionable to human resources managers.
> Bone up on your video capabilities. Online video has become a key aspect of communications. Both corporations and the PR agencies that serve them are producing more and more video, whether to push product or broadcast an idea. It will help you if you know your way around Final Cut Pro and similar programs designed to produce online video.
> Start networking. LinkedIn is terrific for networking but the social platform tends to favor people who are already in the workforce. Locate those networking groups in your area that cater to younger PR professionals and dive in.
For a leg up on the PR job market, check out PR News' job center.
Follow Matthew Schwartz: @mpsjourno1