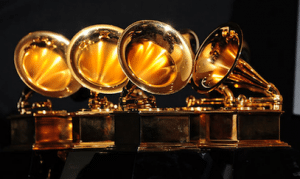 On Sunday night, the music industry will celebrate its biggest stars at the 56th annual Grammy Awards. Billed as "music's biggest night," the show will be full of lavish outfits, live performances, heated rivalries and, of course, press conferences.
But the real work starts for communications professionals before the event, planning attention-grabbing acceptance speeches, organizing post-show press conferences, and generally dealing with maximizing their clients' big moment. Winning a Grammy is a big deal, and an artist's label will want to milk every second out of the moment of glory.
After the show, demand for media appearances will increase dramatically. Even for a seasoned, media-savvy artist, the glare of the spotlight after winning a Grammy can be difficult to handle. For a breakout artist experiencing the limelight for the first time, this newfound prominence can be even harder to navigate.
Post-show press conferences can offer artists and opportunity to capture headlines for simply being themselves, but that will also bring clean-up work for PR pros. TLC's post-Grammy press conference in 1996 is the textbook case here, as the group famously claimed to be "as broke as broke can be" after winning two awards at the show that year.
Whether or not your client is getting ready to address the cream of the music industry media or a hometown press corps, being prepared for press conferences remains important. Here are some tips to use to advise clients, courtesy of Jackie Allder (@jackieallder), director of public relations and communications for The Long & Foster Companies.
Think about what the media wants to know. It's not about getting the words exactly right. Prepare to deliver a clear message based on what questions are expected and what's already out there.
Consider the medium. The press conference will be used for print, TV and digital resources, so both substance and appearance count.
Remember the "Seven C's of Communication." Clarity, credibility, content, context, continuity, capability, channels.
Practice, practice, practice. Practicing for an award show press conference (or acceptance speech) may feel a bit like begging the question, but it's always important to be prepared.
Don't forget that it's okay to say, "I don't know." Plenty of successful people do it, and it's better than making an answer up.
 Follow Brian Greene: @bwilliamgreene