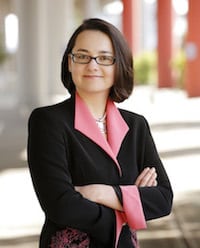 Perhaps you've sat in a ballroom and watched a slick presentation by a digital strategist from a global consumer brand who basked in self-satisfaction as he or she presented successful Instagram, Pinterest and YouTube case studies (and maybe even Snapchat).
Your possible thought in that moment: "That's fine and dandy for Ms. Global Consumer Brand, but when I mention visual storytelling to my boss at my construction company, he tells me no one wants to see pictures of I-beams. Besides, my company's too boring for visuals."
Ekaterina Walter, co-author of "The Power of Visual Storytelling: How to Use Visuals, Videos, and Social Media to Marketing Your Brand" and a keynote speaker at PR News' upcoming Digital PR Conference in Miami, offers a ready response to communicators at "boring companies" in the following Q&A.
PR News: What's your answer to B2B brands—or any brand that doesn't have an obvious storehouse of visual content—that feel they either don't have visual content to share, or that the visual content they do have no one would want to share?
Ekaterina Walter: Every company has a story, every company has a passion they share with their customers, and there are always ways to connect with them, even if you think that your product is "boring." As a marketer I can guarantee you, there isn't such thing as a boring product or boring company, it is just an excuse. You just have to dig deeper to find that passion point or story to tell.
From thought leadership to lead generation, boosting website traffic and more, there are some incredible B2B visual storytellers out there. Tools like SlideShare presentations can help delve deeper into company offerings or raise the visibility of key executives. Infographics can be a powerful communications vehicle for thought leadership data. Quotes from executives can be overlaid on an image and shared across social media channels like Facebook, Twitter, Instagram and Pinterest to inspire current and prospective customers. Video can also be leveraged for product demos or to rally a customer community around key company values.
PR News: Can you share one example?
When Boston-area company GotVMail wanted to rebrand itself as Grasshopper, the company turned to video. Grasshopper, which promotes itself as the entrepreneur's phone system, created an inspirational video for its YouTube channel called "Entrepreneurs can change the world." With more than 1.1 million views on YouTube, the video became a viral sensation and started a movement. As a result of the video, Grasshopper significantly grew the company's social media communities, secured multiple national TV placements and successfully drove traffic to the company's website to learn more and ultimately purchase their phone service.
PR News: What's one suggestion you have for communicators under pressure to show the business value of visual storytelling on digital platforms?
Walter: Experiment and measure. Once you start experimenting with different types of content formats and with telling stories—either your customers' stories, your employees' stories or your brand stories—you will see the impact that will compel you to never go back to your old way of connecting with your communities. Infuse the personality in your conversations, connect with people one-on-one on the emotional level and play with the types of content that will resonate with your communities. Build neighborhoods, not numbers.
It doesn't take thousands of dollars to create fun, snackable visuals that include a quote, an interesting statistic or a fact. There are a ton of free tools out there for those of us who are not designers. It doesn't take much time to snap behind-the-scenes images on the go and bring your community into the fold. It is easy to reach out to others and invite them to share their own content and their own stories. You just need to care—that's all.
PR News: How important is real-time marketing to one's content strategy?
Walter: Relevancy has a deadline. Creating cool stand-alone content isn't enough. You have to get plugged into the passionate conversations your customers are having on various networks and forums at the right time with the right content that is presented in the right format. And that takes a lot of thought and preparation. In the world of fast-moving news feeds, relevancy has a deadline and, if not delivered at the right moment in a flow of the natural conversation, your content will lose its power to stand out and be pertinent.
Catch Ekaterina Walter at PR News' Digital PR Conference, which will be held June 1-3 in Miami. At the conference you'll hear speakers from the American Cancer Society, American Heart Association, Bright House Networks, Edelman, Finn Partners, GE, Havas PR, Human Rights Campaign, Lockheed Martin, Miami Heat, Miami Marlins, National Geographic Channel, rbb Public Relations, Ritz-Carlton Hotel Co., Rock Orange, Royal Caribbean Cruises, Toyota, USANA Health Sciences, Verizon Wireless and Zumba Fitness.
Follow Ekaterina Walter: @Ekaterina
Follow Steve Goldstein: @SGoldsteinAI