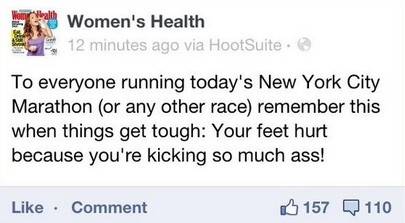 Women's Health magazine committed a social media blunder on Nov. 4 when it posted what was meant to be an inspiring message on its Facebook page wishing runners in the New York City Marathon good luck.
The problem was the race had been canceled two days earlier. Its cancellation, which came after several days of public outcry over the allocation of city resources and manpower in the wake of Hurricane Sandy, had dominated the news cycle.
Fans of Women's Health's Facebook page quickly took issue with the automatic post. One post said: "I guess you were not informed or folks who work for the Magazine don't read or see the news... but the NY Marathon was canceled!!" Another: "You really need to remove your last post - all of America (who watches/ listens to the news) knows the NYC marathon has been canceled."

Women's Health did remove the post, a move usually frowned upon on social channels. However, in this situation it seemed appropriate.
Third-party social media applications such as HootSuite and TweetDeck enable users to schedule posts in advance (Facebook's own site has this feature, Twitter's does not). While it can be beneficial to take advantage of weekend posting opportunities—there are generally far fewer brand posts during this time period—there are also obvious dangers for brands whose social media managers completely shut down on weekends. Brands should create an alert system each time a preprogrammed post has gone live or have teammates check the lineup of posts each morning.
Social media scheduling, which may come off as an inauthentic form of communication, can provide a baseline for engagement while enabling brands to be active on social networks every day—even when no one is in the office or on the job. But planning ahead on social media takes some foresight, common sense and a nose for the news.

Follow Bill Miltenberg: @bmiltenberg