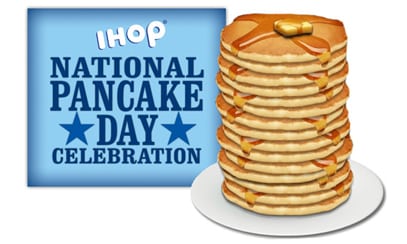 Today is National Pancake Day at IHOP! It's a celebration that began in 2006 where guests are treated to a free short stack of pancakes from 7 a.m. to 10 a.m. In return, IHOP asks that patrons consider making a donation to the Children's Miracle Network Hospitals, an international non-profit that raises funds for children's hospitals and children's health issues awareness.
Since its inception, IHOP has raised $13 million from the annual celebration to support charities. This year, the company says it hopes to add another $3 million to that total.
The history of the holiday is just as rich as the branding (and, of course, the pancakes.) "Pancake Day" dates back to a celebration known in the U.K. as "Shrove Tuesday," a moveable feast that falls each year on the day preceding Ash Wednesday, the first day of Lent.
This cousin of Mardi Gras became known as "Pancake Tuesday" due to the practice of people cleaning out their cupboards the day before Lent to use up rich foods such as eggs, milk and sugar—foods that are typically given up during the religious observance.
As far as CSR initiatives go, the IHOP free pancake scheme is branding brilliance. Pancakes are not caviar, and the 3 hours of free pancakes raises the company's social responsibility profile and brings people to its restaurants. The #NationalPancakeDay hashtag is trending on Twitter, and the company comes out looking like a hero.
Follow Brian Greene: @bwilliamgreene