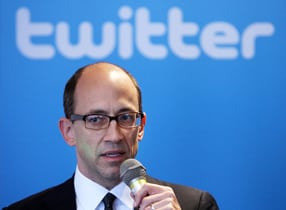 Twitter's second earnings announcement after going public last year should have been welcome news to investors. The company doubled revenues and beat its own forecasts, yet stock prices tumbled. As of this morning, Twitter was down 13% on Wall Street. Why?
Simply put, Twitter is not growing fast enough. The company claimed 255 million users globally in March, which is up only 5% from December. The previous quarter saw only 4% growth in monthly users. This is a not even half the number of users claimed by Facebook, a social media network with truly global reach.
Twitter's slow rate of growth is further compounded by the fact that daily active users remains flat compared to before the company went public. Sure, retweets and favorites are up 26 percent, but that's not enough. Arvind Bhatia, an analyst with investment firm Sterne Agee, told the New York Times, "User metrics are improving, but not fast enough. Yes, they're getting better, but the market's looking for more."
Has Twitter peaked? Could it be that the latest social media network of tomorrow is yesterday's news? No one can be certain, and there is no reason to start writing Twitter's obituary just yet. But it's a good reminder for communicators.
Never put all your time and resources into one social media bucket. You need to be aware of not just what's trending on social media, but which social media networks are trending as well. If you want to put your brand at the forefront of the conversation, you need to be engaging on networks that will give you the widest and most effective possible reach. Don't count on one channel alone to get your message out. And never assume that what is all the rage today will still be relevant tomorrow.
Follow Richard Brownell: @RickBrownell