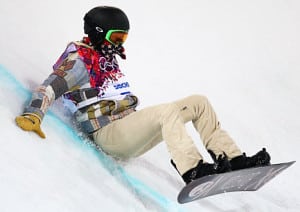 Following his fourth-place finish in the halfpipe final at the Winter Olympics Tuesday, Shaun White is already talking about focusing more on his music career and less on snowboarding. But if the music thing doesn't work out, White could also try his hand at branding. He certainly has a knack for managing his own brand.
White, the owner of two Olympic Gold medals, got knocked off in Sochi by Russian Iouri Pidladtchikov, known as I-Pod.
Soon after his loss White already seemed to be advancing the message for his post-snowboarding career.
"I don't really think tonight makes or breaks my career," he said, according to several reports. "I've been snowboarding for so long and I love it. It's given me so much. I'm happy to take this for what it is and move on, continue to ride and put my best foot forward. I would always like to be remembered as more than a snowboarder. I have so much going on in my life and this is one big part of who I am. But it's not all that I am."
While White took issue with the pipe conditions throughout the week, he didn't play the blame game.
"We're all on an even playing field and those guys had a good night," he said, per The Washington Post. "I give them props for navigating the halfpipe. I know a lot of people had a hard time."
Magnanimous in defeat, White could share a few PR tips with C-level executives who, when faced with bad news that they need to communicate to their stakeholders, tend to downplay the reasons why, say, the company had a lousy quarter revenue-wise.
White also displayed grace in recognizing his fans, another tip for communicators when they face adversity.
After the event, White posted a pre-taped message to his fans on YouTube and Twitter, telling them, "I can't do it without you, you're the best."
Give that man a PR gig.
Follow Matthew Schwartz on Twitter: @mpsjourno1