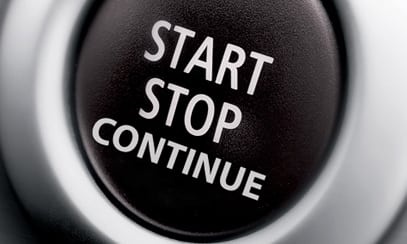 Social media, for all of its usefulness, can be a gigantic time suck. Talking about posting to the plethora of channels available to professional communicators is one thing—the actual execution and careful crafting of messages for individual platforms is something else. A thoughtful, text-only Facebook post won't have an impact on Pinterest, a picture snapped quickly at an event and posted to Twitter may not do well with aesthetically conscious Instagram users, a Snapchat post is basically useless anywhere else, and so on.
Choosing which social media platforms to use for your brand can be a daunting task, and it's an important one.
Cathy McPhillips, marketing director at the Content Marketing Institute and contributor to PR News' Media Relations Guidebook Vol. 2, has an exercise to help with strategizing and maintaining an appropriate mix of social media platforms:
Start, Stop, Continue Grid:

Make a list of each of your current social channels.
Include any channels you have not even begun to use.
Create three columns: START, STOP, CONTINUE.
For each channel, in START, list tactics you should be doing or have wanted to do but are not currently doing.
In STOP, write down strategies that don't align with your goals or don't feel right.
Be sure to CONTINUE to do what is working well for you.
Chances are your intuition and experiences will help guide this process.
Remember that some START/CONTINUE ideas may include simply using one channel to support another.
Afterward, spend some time looking at industry leaders, competitors and brands you like and trust. How could you expand your START, STOP, CONTINUE exercise to make it a more robust plan for your business?
Review this process at least once a year and share with your colleagues so they can enable you to do your best work.
Follow Cathy McPhillips: @cmcphillips
Follow Brian Greene: @bwilliamgreene