When one of the top ballet companies in the world, the Paris Opera Ballet, decided to perform seven shows in Chicago last summer, the Windy City's arts patrons were ready to fork over for tickets, but the Harris Theater for Music and Dance in Chicago's Millennium Park wanted to reach well beyond the 1,500 people it could fit into its house for a performance.
What resulted was the country's first-ever live public simulcast of an international ballet company. Thousands gathered at Chicago's Millennium Park to watch a cultural event showcasing high-end dance via massive screens.
Paris Opera Ballet, along with PR agency Henson Consulting (HC), had one overriding objective for the campaign: Reach people who were not necessarily into dance. "HC recognized immediately that the Paris Opera Ballet engagement had the potential to appeal to a wide variety of audiences beyond dance enthusiasts," said Kathleen Henson, founder and CEO of Henson Consulting. "Civic-minded folks would want to understand [Chicago] Mayor [Rahm] Emanuel's tie to the event. Techies would want the scoop on the first-ever live ballet simulcast in Millennium Park."
The society scenesters would want to know what VIPs were connected to the engagement. HC targeted these and other subgroups through outreach to reporters of corresponding beats.
THE PREP
Henson cam aboard less than a month before the actual event (last June), so there was little time for long-lead stories. It was all about organizing pitches around the seven identified targets: local Chicago media, arts/dance-specific contacts, society/philanthropy targets, features writers, technology reporters, regional reporters and national contacts.
"At HC, we think through every possible audience for what we're promoting, and this often leads to creating deep media lists and multiple iterations of a single pitch for distribution to disparate beats," Henson said.
A battle plan was laid out for each audience. Not only was this the launch of the Paris Opera Ballet's U.S. tour and a foray into technology, but the event also had other promotable tie-ins.
Mayor Emanuel, who was trained as a ballet dancer, was the event's spokesperson and agreed to meet two dancers from the city's sole arts high school before a show. The tight schedule meant that not a moment could be wasted. So the team first schooled itself in ballet's history, terminology and the culture of society/philanthropy. It then identified a who's who of those involved.
"The most important thing is that the agency understands the culture of the organization that they are representing and has a deep understanding of the material—the actual art itself," said Cheryl Mendelson Shure, executive VP of external affairs at the Harris Theater.
She added, "You can't fake it in the arts. You have to dig in deep and understand what makes it important, to articulate it to the public."
HC then made a master list including every media contact covering the arts. It divided responsibilities, assigned job ownership and shared a week-by-week (and, sometimes, day-by-day) task list so that nothing fell through the cracks.
To keep media feedback organized and Harris Theater in the loop, HC developed a client-facing "stories in progress" document, with status categories.
In order to make the show a success, not only did HC need to create media coverage but had to work with and bring together four different institutions: the Harris and its board, the Paris Opera Ballet, the City of Chicago and Millennium Park.
HC integrated the spokespeople of all four institutions into a variety of interviews. That helped all four entities gain attention in the process.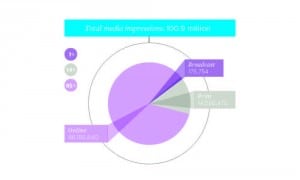 THE SHOW
The biggest nights of the event were opening night and the following night, when the performance was simulcast. Henson hired two photographers to capture the event as it happened.
In the lead up to the show, Henson had a photographer and videographer capture rehearsal footage for the media to use.
One challenge was the size of the theater and the crowd itself. Harris has five levels, and the elevators were constantly in use. The media check-in was five stories away from where the actual seats were, which made belabored the process for journalists.
"We would advise other agencies to take the layout of their venue into account and to imagine the venue at capacity," said Anitra Schulte, account director at HC.
She added, "We would also recommend setting up the media check-in table as close to the physical theater space as possible, and having at least two staffers at media check-in, one designated to usher media, and the other to greet all media guests."
THE OPENING
At Opening Night of the event, HC had a team of four. One was in the upstairs lobby with a photographer, taking photos in the upstairs lobby during arrival, cocktails and intermission, recording the names and descriptions of VIP guests.
A second staffer was with another photographer on the theater's lower level. A third staffer distributed media materials and tickets and greeted camera crews and photographers at the media desk.
The fourth, CEO Kathleen Henson, worked with the Mayor's Office to ensure the execution of the student meet-up and to ensure that the Mayor's media needs were met.
At the simulcast the following night, the HC team was made up of seven people. Six circulated in Millennium Park, distributing fliers to attendees, supervising the speaking program and meeting press needs, and one staffer manned the media table back at the Harris Theater.
THE RESULTS
Henson's planning, persistence, and outreach paid off.
• The Harris sold out all seven Paris Opera Ballet shows.
• Thousands of people who are now potential dance-event ticket buyers attended the simulcast in Millennium Park, the location of President Obama's first inauguration night celebration.
• Sixty-eight press seats for local and national media outlets were used during the event.
• Fliers were distributed to a maximum capacity crowd of 13,000 in Millennium Park.
• HC secured 91 international, national and local media placements, for a total of 100 million media impressions.
• Coverage came from such disparate organizations as the Chicago Tribune, Huffington Post, and France Television 1.
With the help of Henson's team, the Harris was able to not only solidify itself as an arts leader in the Chicago area, but also get its name in front of a lot more eyeballs nationally and internationally. That didn't just help the theater, but helped the city itself continue to present Chicago as an international center for the arts. PRN
CONTACT:
Kathleen Henson, Kathleen@hensonconsulting.com, @KathleenHenson;
Anitra Schulte, Anitra@hensonconsulting.com, @Beaumotro; Cheryl Shure,
cshure@harristheaterchicago.org; @HarrisTheater.
Five Tips for Working Under a Tight Deadline
1. Get the lay of the land. Jumpstart things with a meeting with your client. Ask every question you can think of, in order to assess your assets and understand expectations. Leave no stone unturned and leave the door open for subsequent inquiries.
2. Build a detailed week-by-week timeline. Once your due dates are locked down, work backwards. If your press release needs to go out on June 1, the copy must be approved one week prior, the second draft must be finalized two weeks prior and so on. Every single deadline needs to go through the same time-plotting exercise.
3. Divide tasks with strengths in mind. When all hands are on deck, use every last finger and pinkie to get the job done. If your client has an internal PR or marketing department, let them take the lead on tasks that fit into their wheelhouse and align with their contacts. Then, play to the strengths of your internal team. Give drafting assignments to your strongest and most creative writers. Have each team member be responsible for a specific relationship.
4. Communicate frequently and efficientl y. Check in with your team weekly—and as the date nears, daily—to see where things stand on the collective to-do list. Consolidate all tasks in a master list to ensure that assignments are balanced and hold everyone to the same accountability standard. Client communication must also be efficient. Don't waste a minute on your calls. Organize agendas by addressing the most critical items first, so that if someone needs to peel off for another call or meeting, you don't have to track them down later on urgent items.
5. Don't forget the flourish. Be mindful of quality, presentation and courteousness. If you burn the midnight oil to round up details for a reporter—but don't share the information gathered in a way that's professional and thorough—chances are you'll be remembered not for what you did, but how you did it, in an unfinished manner.
Anitra Schulte is account director at Henson Consulting.