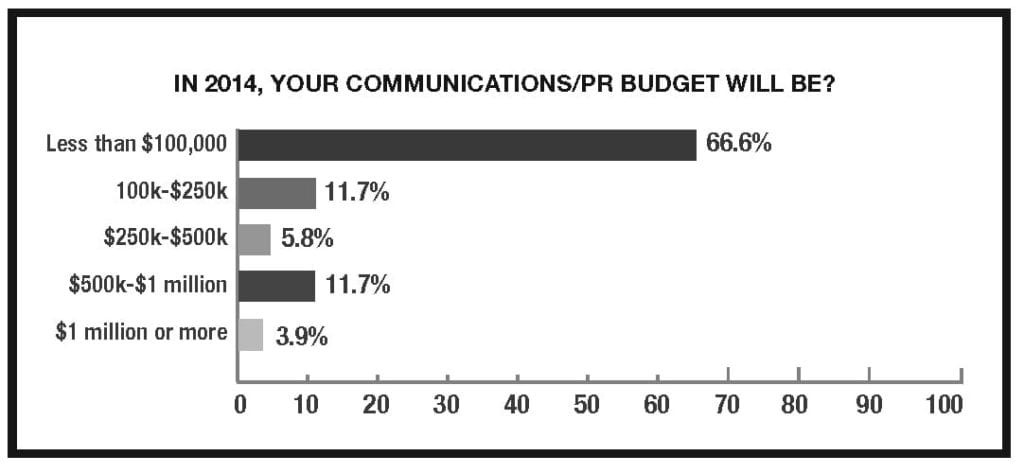 PR budgets for social media activities are rising, according to a new survey conducted by PR News and the Counselors Academy/Public Relations Society of America. And for 2014, that money is being spent mainly to increase market visibility, and it's being spent mostly on Facebook. About a quarter of PR pros and communicators now devote more than 35% of their social media budget to Facebook. No other major network, including LinkedIn, Pinterest, Twitter and YouTube, has anywhere near that large a portion of total spend. In fact, only a tiny, single-digit fraction of respondents report spending 35% or more of their budgets on any of those other networks. For the moment, Facebook is king. Asked what's been the most effective social media channel, 50% of the respondents said Facebook, with Twitter trailing far behind (27%).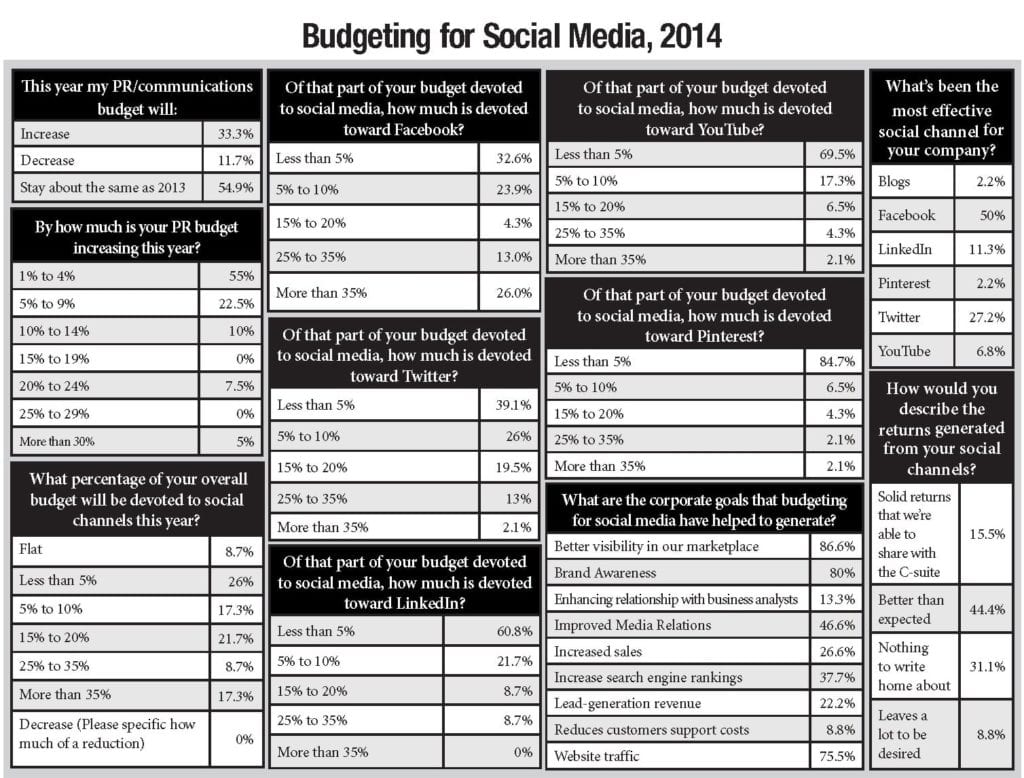 "Facebook may have cracked the code on having marketers open their wallets to devote spending to that channel," said Mike Neumeier, chairman of the Counselors Academy and principal of PR and marketing agency Arketi Group. "It's probably tying to corporate goals."
The online survey, which was conducted in March and April, generated 63 responses from all corners of the communications field, including the corporate, agency and nonprofit sectors. Nearly 80% of the respondents said they are involved in the decision-making process of their organization's PR budget, while about 28% of the respondents said they are president-CEO of their organization.
While a relatively small sample, the study provides a road map on which direction social media spending among PR pros is headed and how budgeting for social channels is evolving.
Another significant change from last year's survey was respondents' take on the overall returns generated from social media spending. For example, 15% of the respondents said that this year social media provided solid returns that are now being shared with senior management, up from 5% in 2013, while 45% of the respondents said the returns were better than expected, down from 60% in 2013.
"You would expect that some of the returns have moved up from 'better than expected' to 'sharing with the C-suite,'" Neumeier said. "Social media does different things for different organizations. It might drive sales in one organization and, for another, drive traffic to its website, or for another boost brand awareness, but all the channels add value." (See table.)
Indeed, nearly 18% of the respondents said they now devote more than 35% of their communications budgets to social channels, which speaks to acceptance of the channel.
At the same time, some PR managers continue to look at social media with a jaundiced eye.
About 40% of the respondents described the returns generated from their social channels as either "nothing to write home about" or "leaves a lot to be desired." It's hard to say what it means when nearly half of the survey respondents are lukewarm about the value of social media.
CONTACT:
Mike Neumeier, mneumeier@arketi.com.
---
This article originally appeared in the May 5, 2014 issue of PR News. Read more subscriber-only content by becoming a PR News subscriber today.