Social media is becoming an increasingly important customer service channel for businesses. A number of studies have shown that more and more consumers are turning to social media when they are unhappy with a product, service or brand.
For consumers it makes a lot of sense to use social media as a customer service channel. Taking conversations and inquiries out in the open is far more likely to produce favorable results, since the companies and brands in question are likely to try that much harder to keep customers happy when it's out in public for the world to see.
While it's easy for businesses to control their Web sites, press releases and advertisements, social media is wide open, and they need to engage with customers online to ensure satisfaction and protect against bad sentiment snowballing.

Turning a PR Disaster Into a Win

When things go wrong for a company, on any level, you'll see the results on social media first. It's the perfect moaning platform. When mobile phone provider O2's network went down on July 12, angry customers vented their frustrations online, tweeting both about and to O2 with abusive messages and demands.
While there was little that O2 could do to placate their customers while their mobile phones were rendered virtually useless, they communicated with their customers in a surprisingly open, friendly and honest way.
Tweets like @fionaprice1: "not gonna lie cannot wait to leave @o2" were met with "we still love you" tweets from O2, while abusive tweets such as "F*CK YOU" were met with "no thanks" and other amusing replies. Before long people had caught on to the tongue-in-cheek tweeting, and began interacting with O2 in an amusing way, accusing their mobile phone of attacking their mother, or tweeting a picture of a carrier pigeon to O2. O2 responded, "how much for the bird?"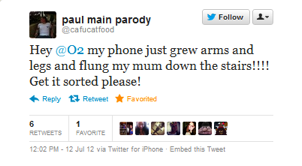 All this ultimately culminated in new-found respect and admiration for the O2 Twitter account: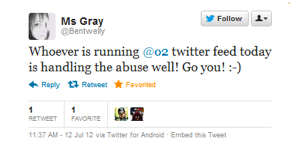 Despite not actually being able to fix anyone's problems, or offer any significant compensation until almost a week later, O2 managed to turn this PR disaster into a temporary social media win, gaining friends and admirers on their social media profiles, gaining exposure and a reputation for being funny, friendly and apologetic. This type of social media activity builds the brand and adds character to an otherwise bland, corporate Twitter account.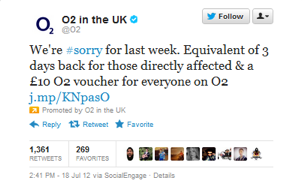 It's a lesson for many brands who dread such a situation developing on their own profile. O2 showed that whatever happens, you should continue to communicate openly with customer and commentators. Even when service is severely impacted, you don't have to feel that you can't say anything until the problems is fixed. There's no harm in interacting with your customers as long as you're careful not to annoy them, even if you can't offer them immediate compensation or a fix for their problem. Sense of humour, grace and intelligence goes a long way—as long as there's someone with a keen sense of your brand behind the controls.
It would have been easy for O2 to take a negative approach to this situation. Writing blunt, compliance-approved tweets which would probably annoy customers even more. This nice, soft approach worked well for O2.
As social media grows, we're likely to see it used more and more for customer service purposes. That means more PR disasters and more opportunities for PR wins.

Alan Cairns is a search & social marketing analyst at Bozboz, a full-service digital agency offering SEO and social media services.