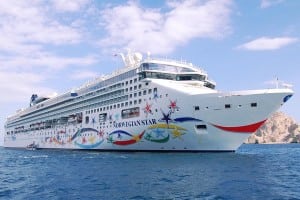 Norwegian Cruise Line is being called "heartless" after the cruise-ship company refused to let a New York couple rebook a summer vacation after their 5-year-old son was diagnosed with cancer.
The parents of Nicolas Colucci said that Norwegian Cruise Line has  refused to accommodate them, citing its cancellation policy, according to Fox News.
Colucci was scheduled to take the family-friendly cruise starting on June 1, but on May 19 he was diagnosed with a cancerous tumor in his liver. He had surgery a few days later and is still undergoing chemotherapy.
Norwegian says any cancellation within 14 days or less of the sail date is subject to a 100 percent cancellation fee. Now, the boy's family is out $4,000.
The cruise line issue a statement to "Fox & Friends" saying, "Our hearts, thoughts and prayers are with the Colucci family and we wish Nicolas a speedy recover…After reviewing the request of the Colucci family, we spoke with the family and explained that while we couldn't make an exception to our policy, we would assist them when they were ready to re-book their cruise."
Compare that to the statement from Tara Colucci, Nicholas' mother, who told MyFoxNY late last week: "I just never imagined, especially a company as big as Norwegian, that they would be so heartless, basically."
Who do you think wins that PR battle?
Companies have to follow protocol. But if there ever were a reason for communicators to cite an "exception to the rule," this is it—cutting through the red tape to accommodate a seriously ill child.
Brands and organizations need a tripwire in place so that when special cases materialize PR managers are made aware of the situation and given authority to make a decision that will reflect well on the company. Otherwise, the company comes off as an ogre—or worse. What is more, it gives competitors a chance to fill the void (not to mention take some mindshare in the process).
Indeed, after the MyFoxNY story, the CEO of another cruise line (which has not been indentified) reportedly called the Coluccis and offered them a free cruise with Nicolas and Nicolas' younger brother when they are ready.
PR is as PR does.
Follow Matthew Schwartz on Twitter: @mpsjourno1