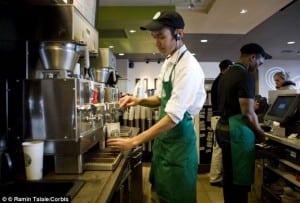 Just think of the volume of stories that will soon start to percolate at Starbucks. By announcing the "Starbucks College Achievement Plan" earlier this month, the coffee king is not only taking a stand on one of the most problematic issues facing the country (student debt), but also cultivating what should be a steady stream of original content. "Everything comes down to content," said Alison DaSilva, executive VP at Cone Communications, which specializes in corporate social responsibility (CSR). "Look at the content that will come out of the announcement, but also the milestones along the way, meaning that single mom who couldn't get an education, but is now going to school and is getting in line for a leadership position."
Under the plan, Starbucks employees who work at least 20 hours a week will be eligible to enroll in Arizona State University (ASU) online classes. Workers who enroll in the university's online bachelor's degree will get a partial scholarship for the first two years, valued at $6,500, for full-time study and full tuition reimbursement for the final two years of school. Among Starbucks' 135,000 U.S. store employees about 80% are benefits-eligible. Employees can begin classes starting this October, according to Laurel Harper, manager of global corporate communications at Starbucks.
"Since the announcement, we've received a very enthusiastic response from customers, communities, prospective candidates, and our partners (employees) who are embracing this benefit with overwhelming excitement," Harper said.
Connect the Dots
In addition to developing a new pipeline for content, Starbucks' decision to fund the college education of its employees raises several issues for PR managers and directors.
When a brand or organization takes a stand on a societal issue (and puts its money where its mouth is), PR managers are often responsible to help drive the program, deal with the reaction (both positive and negative) and work with partners to ensure the program doesn't suffer any major glitches.
"It's really important for PR managers to connect the dots on how the investment is being made, how it will impact the beneficiaries and why it's good for society," DaSilva said.
When a company does go out on a limb on a societal issue—whether it's education, health care or the environment—PR managers also have to transcend any attempts to politicize the issue.
"It's not being 'red,' 'blue' or 'green,'" DaSilva. "It's showing what your deep values are and how they guide multiple business practices. "
Boon for the Brand
Politics aside, Starbucks' move should be a boon to the brand's recruitment and retention efforts, which, at least on paper, should enhance the company's overall reputation.
Following the announcement regarding the student-aid program, Starbucks president-CEO Howard Schultz told Forbes: "I don't know if other companies are willing to do [this], and how they view their people."
That's a not-so-subtle challenge to other businesses for more altruistic behavior. At the same time, the message helps to further distinguish Starbucks in the eyes of consumers.
For CSR programs similar to Starbucks', PR managers have to lead the pack, said John Deveney, president of Deveney Communications.
"Whether it's raising the minimum wage or helping the middle class, these are opportunities for the PR leadership to say, 'We can carry the conversation,'" Deveney said.
What is more, when companies get in front of a societal issue it's another opportunity to link with the community benefiting from corporate largesse.
Entergy Corp., an energy company that provides electric power, serves a region that has some of the highest poverty rates in the nation, so the company is heavily involved in a variety of efforts intended to help to break the cycle of poverty, including promoting government programs such as the Earned Income Tax Credit (EITC), according to Patty Riddlebarger, director of CSR.
"Communications is the bridge to connect people to the available resources, so successful outreach to the target audience is obviously key," she said. "With the EITC program, for example, we accomplish that through a comprehensive communications strategy we develop that uses the full arsenal of marketing tools. We then bring in our community partners and provide them grants to effectively deploy those tools."
5 PR Tips for When Your Organization Take a Stand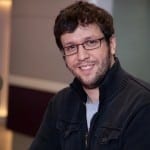 Below are five key considerations you should take when counseling your leadership on taking a stand:
1. Is it an issue that people do—or could—care about? Often, C-level execs speak out on what the organization would like to talk about without considering how, or if, it deeply impacts the audience they intend to reach. Communication professionals must look at the issue from outside the organization's perspective and push leaders to focus on legitimate issues that matter.
2. Do you have a compelling, authentic story to tell? If your top execs are going to speak out on a problem that must be solved, what has your organization been doing to address it, aside from your products/services? What demonstrates that this isn't primarily a publicity stunt?
3. Are your C-level execs willing to be provocative or provide original nuance/clarity? Many organizations want to publish their top managers' thoughts on a hot-button topic, but the leadership is hesitant to say anything of substance. Before you spend time crafting that story, be honest as to whether managers can provide significant new understanding of the subject and/or take a bold stance on the issue.
4. Is the top exec dedicated enough to sustain the discussion? Communication professionals must help guide their top execs to be honest about their long-term commitment and not go public with a perspective if they aren't willing to follow through on what's promised, respond to the reaction from audiences and sustain the time needed to be a steady voice on the subject.
5. How you will respond to the various potential positive and negative consequences? Engage in scenario planning with the leader in question and other decision-makers in the organization. Think through the various likely reactions, the way the organization would respond, and the risk you're collectively willing to take in issuing—and following through—on a strong POV.
This sidebar was written by Sam Ford, director of audience engagement at Peppercomm and co-author of "Spreadable Media: Creating Value and Meaning in a Networked Culture" (2013, NYU Press). He can be reached at sford@peppercomm.com.
Contact:
Alison DaSilva, adasilva@conecomm.com; John Deveney, jdeveney@deveney.com; Patty Riddlebarger, driddl1@entergy.com.
---
This article originally appeared in the June 30, 2014 issue of PR News. Read more subscriber-only content by becoming a PR News subscriber today.